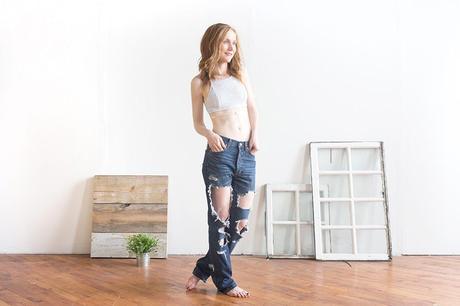 Alexander Wang, Prada and Tommy Hilfiger all sent athletic inspired looks down the runway last spring. The message, I'm sure, was that they were rooting for me, yes me, to show off my active underwear. Since I am such a good sport, I took note despite the fact that most runway rules are not the same IRL. Hey, if Sporty Spice could rock a crop top in 1994, why can't I in 2014? I can certainly look just as posh, and better than Posh. My me-made intimates have hovered around the soft bra and the underwired variety, so I had to search to find cool, must-show piece that could double as a pretty option peeking through a bohemian top or during yoga. I found the one on my favorite social platform – Instagram – when I searched the hashtag #bramaking. I discovered Elma and her handmade lingerie line that is tailored to women with small chests. Hallellujah. Praise the Lord. A quick comment lead to a collaboration, where she sent me the pattern to one of her bras, which I sewed using my choice of fabric and trimming. I chose the Kitri Crop Bra Top; can we all agree that the result was a bra that was much more stylish than anything I ever wore in P.E.? Game on.
I changed the construction slightly, flavoring it to my own tastes. While Elma finishes the armhole and neckline with a ¼" turnback, I applied ¼" elastic for more support. The only other change was using ½" elastic at the bottom band – Elma uses ¼" – and again, it was for support reasons.
Collaborating with Elma, my goal was to remove the mystic around bra making. In one of my first messages to Elma proposing the partnership, she responded, "I believe in radical transparency and the only way to grow is to learn from one another." The world of lingerie making is heavily guarded – I vividly remember my days in technical design when vendors would not release any of their patterns. But Elma and I are one in the same, just two people on a mission to make beautiful, simple bras.