"The wise know the value of friendship, and that it is wisdom to be a friend to oneself too." -A.C. Grayling
Welcome to Week 6 of "What I Love About Me!" hosted by Twins Plus One, Three Times the Fun and Twingle Mommy!
Here's how it works -
Write a post about what you love about yourself this week and then add it to the linky list below. This is intended to be a time and place for each of us to stop criticizing ourselves for a few minutes and actually remind ourselves of the characteristics we are proud to own. So go ahead, look in the mirror, and see yourself through your loved one's eyes. Notice the beauty first. Here's your place to shine!
A few simple guidelines -
Please follow the two hostesses. If you are a new follower, please comment so we can follow you too! :)
We'd love it if you posted the button and the linky list, but it is not mandatory. The button code is on my left sidebar.
Feel free to link to your homepage or your specific "What I Love About Me!" post. We want this to be a fun, relaxing hop so we'll accept all links as long as they are family-friendly. Thanks!
The linky will be open all week so feel free to link-up on your own time!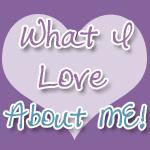 What I Love About Me this week: I jumped back into Weight Watchers.
I only have about 15 more pounds to lose before I meet my goal. I finally have the money to rejoin - $12/week = $48/month, which is about the cost of my gas bill, so I really couldn't justify this expense during the time that my husband was out of work. I even got back to the gym a couple times this week.
I took my first Spin class this morning. Holy hell. I thought I was going to die. Outside of labor & delivery, that was the hardest workout I've ever done. And I danced competitively for a decade. Yeah, yeah - I know I'm a big baby. I do intend to go back so that hopefully I won't feel like passing out after class once I've been a few times.
Anywho, I'm down 3.4 lbs my first week back on the program. Woot.
What about you? What do you love about yourself this week? Link up and let us know about it!