"The wise know the value of friendship, and that it is wisdom to be a friend to oneself too." -A.C. Grayling
Welcome to Week 5 of "What I Love About Me!" hosted by Twins Plus One, Three Times the Fun and Twingle Mommy!
Here's how it works -
Write a post about what you love about yourself this week and then add it to the linky list below. This is intended to be a time and place for each of us to stop criticizing ourselves for a few minutes and actually remind ourselves of the characteristics we are proud to own. So go ahead, look in the mirror, and see yourself through your loved one's eyes. Notice the beauty first. Here's your place to shine!
A few simple guidelines -
Please follow the two hostesses. If you are a new follower, please comment so we can follow you too! :)
We'd love it if you posted the button and the linky list, but it is not mandatory.
Feel free to link to your homepage or your specific "What I Love About Me!" post. We want this to be a fun, relaxing hop so we'll accept all links as long as they are family-friendly. Thanks!
The linky will be open all week so feel free to link-up on your own time!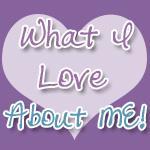 What I Love About Me this week: I am a woman.
Yes, I love that I am a woman. I got to thinking about this after reading this post over on Allison's blog. That's not to say anything negative against my male counterparts, but I do have to say that there are some amazing things I particularly enjoy about being female. First and foremost, I love that I was able to give birth to and nurse children. Before giving birth, I used to think Men are SO lucky that they don't HAVE to do this! Now I think Boy, it's really too bad that men don't GET to experience this!
After that, there are lots of other little things I enjoy about being a woman like wearing long skirts and attending mom's nights out. I know those things are small, but they make me smile...which makes them seem a little bigger.
What do you love about yourself this week?