"The wise know the value of friendship, and that it is wisdom to be a friend to oneself too." -A.C. Grayling
Welcome to Week 10 of "What I Love About Me!" hosted by Twins Plus One, Three Times the Fun and Twingle Mommy!
Here's how it works -
Write a post about what you love about yourself this week and then add it to the linky list below. This is intended to be a time and place for each of us to stop criticizing ourselves for a few minutes and actually remind ourselves of the characteristics we are proud to own. So go ahead, look in the mirror, and see yourself through your loved one's eyes. Notice the beauty first. Here's your place to shine!
A few simple guidelines -
Please follow the two hostesses. If you are a new follower, please comment so we can follow you too! :)
We'd love it if you posted the button and the linky list, but it is not mandatory. The button code is on my left sidebar.
Feel free to link to your homepage or your specific "What I Love About Me!" post. We want this to be a fun, relaxing hop so we'll accept all links as long as they are family-friendly. Thanks!
The linky will be open all week so feel free to link-up on your own time!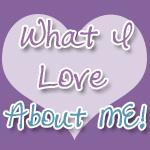 What I Love About Me this week:
Change might scare me, but I try to welcome it anyway.
Tomorrow morning at 8am I will walk into a room that is liable to trigger a nervous breakdown...ok, maybe not a nervous breakdown, but something close to it. Tomorrow morning I can finally get the keys to my new classroom. A classroom filled with all sorts of furniture, supplies, and paperwork that needs to get arranged and organized. I will have precisely 11 half-days to get it all done. I honestly don't know how I will do it.
But I will.
And it will be good.
I know I can because I look back at my short life and have to remember all the changes I've gotten through already - and I've come out a stronger person each time. 
I didn't know how we would be able to afford to raise twins. Then I really didn't how we'd be able to afford raising another baby only 22 months younger than those twins. Then I really really didn't how we'd do it when my husband lost his job.
But we did every time. 
I didn't know how I was going to get through my Master's program with twin infants at home. I didn't know how I was going to be able to go from teaching 1st grade in one school to 2nd grade in another school practically over night (I had 3 days to switch). 
But I did.
I didn't know how I'd get through my dramatically difficult twin pregnancy. Or how I'd deal with 2 completely unpaid maternity leaves.
But I did.
Now I know that all I've accomplished, I accomplished in good company. I thank all those friends and family who have helped me accomplish these things. And I thank those who are helping me with this next challenge too.
I'm scared, but I know I'll get through it. Actually, I'll do more than get through it. I'll be better because of it.
What do you love about yourself this week?