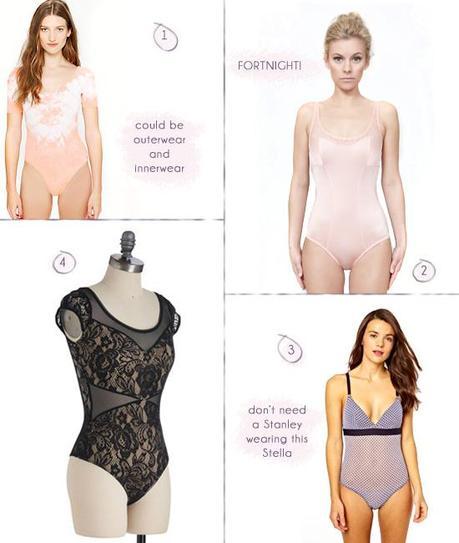 Amy beat me to the punch when she posted about bodysuits in her series Lingerie Friday's but it just meant that great minds think alike. Or maybe it meant that great minds think a lot about lingerie.
Considering the fact that my eight month anniversary sewing lingerie is coming up, it's an obvious progression that my mind wandered to bodysuits. It wandered but it quickly got stuck because like many of you, body suits are questionable. How do you wear them? What do you wear them with? Are they outerwear or inner wear? How are VPL's (visible p**** lines) and flat chests avoided? And the issue of going to the bathroom. Eek… let's not go there.
But I want to like bodysuits. I really, really do. They have a connotation of being only over seductive and I've been trying to prove that thinking wrong. I believe that just like any trend, bodysuits can be luxe as well as everyday, if worn correctly.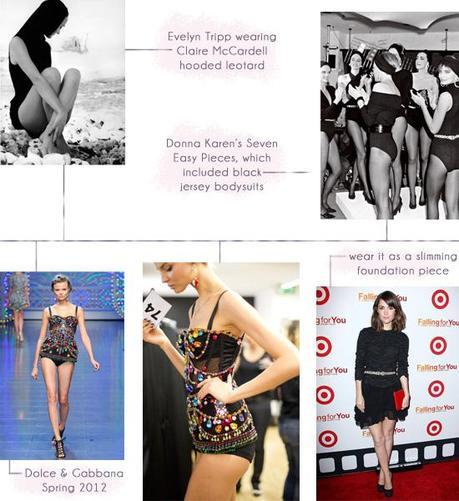 The history of the bodysuit is just as interesting as its mode of wearing, mostly because it has crossed into many categories of clothing. The exact moment or era bodysuits were born is difficult to pinpoint but it's a safe to say, at least for the purpose of this post – a history lesson on fashion, that their life began as activewear. The French acrobat Jules Leotard wore a two piece, body-hugging garment (this is where the term leotard comes from) and ballerinas have been wearing them since the nineteenth century (look at a Degas painting). Since then, bodysuits have been worn as loungewear, activewear, innerwear, and outerwear. In the 1950s, Claire McCardell became famous for being the anti-Dior, making sportswear and everyday wear popular, and one of her favorite silhouettes was the leotard. In the 1980s, Donna Karen launched her simple dressing system, Seven Easy Pieces, and made black, jersey bodysuits part of the modern day woman's wardrobe (call me young but I only have images of Jane Fonda).
History was not providing me with any solutions as I was trying to think of a modern way to wear bodysuits. A lot of trends fly where I work but wearing a leotard might cause my manager and coworkers to wonder about my sanity. Then I came across an article in Health Magazine called "Time To Shape Up," which showed how to wear foundation pieces under dresses, jeans, and skirt/top combos. Aha! This is how I would wear body suits – as a prettier alternative to shape wear. I don't need to wear shape wear for its primary purpose – to suck and smooth body lines (I'm pretty skinny) – but when I'm dressing, I like feeling secured. That's part of the reason I like wearing high waisted jeans – because my bottom half is tucked in.
So, truthfully, and assuming that the hoohah region had a button closure, bodysuits underneath a flowy or fit-and-flare dress or a sweater and skirt combo is a practical, comfortable, and definitely pretty possibility in my near future (look at the bottom right picture in the image above). Wearing something that is just as pretty, maybe even prettier, than what is worn on top… now that puts together an ensemble.
What do you think?