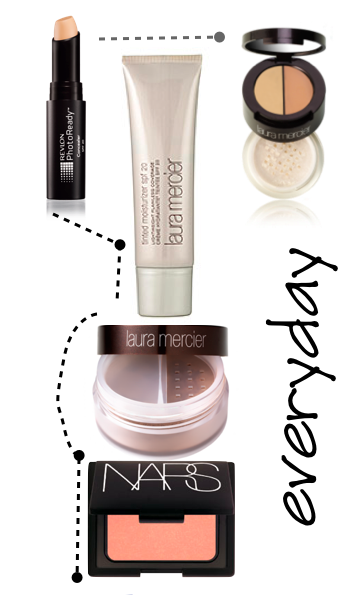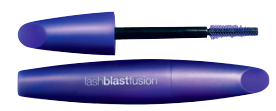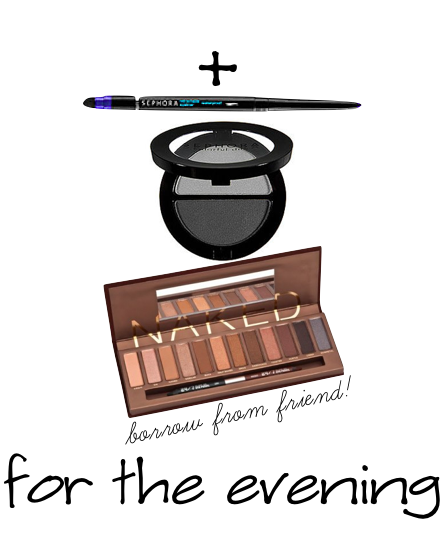 1.
Revlon PhotoReady concealer
- going for only $7 at your drug store, this product is amazing. It works so well, and lasts for a good amount of time. I have very fair skin and the lightest color is perfect! 
2.
Laura Mercier CoverPot-
 for those 'my skin hates me' days, this is perfect. With two colors, one of their classic concealer (which I used to use but runs out too quickly) and a more yellow matter option. There is also a power under to cover any discoloration that may occur from the matte, and to help it stay longe! 
3. Laura Mercier Tinter Moisturizer- the only thing I have to say about this is...it is perfect in every way! It is super light, and I always hear the " you never look like you have makeup on" comment. 
4. Laura Mercier Mineral Powder - another perfect light coverage which just helps your foundation sit nicely. 
5. Nars Orgasm Blush - the classic and the perfect. When I first tried this in Sephora I could not decide it I liked it against my fair skin, the women looked at me and said " no no orgasm looks good on everyone give it another chance" I did and am thankful! 
6. CoverGirl LashBlash- another great drug store find, that I even bought in bulk at Costco (yes I am that person). 
7.Sephora Retractable EyeLiner- great deal at $12, goes on very smooth and stays on (but not too much where you are making your eye red getting it off...hate that!) 
8. Sephora EyeShadow-  great smokey black and gray combo for $16, also lasts a long time, granted I do not wear it on a daily basis I have still had it for a few years. 
9.Urban Decay Naked Pallet- might remember this from my birthday wish list- and I am still wishing for it...not to worry enough of my friends have it where when I really want to be wearing it I have the opportunity!