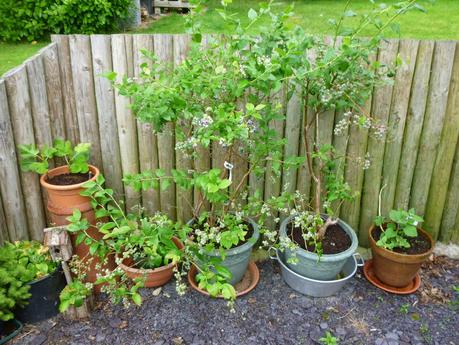 Well to answer the question in the title ... not a lot really!   But saying that I couldn't not grow anything, even while we are in this building stage of our self sufficient little world I had to have something on the go.  The first lot of seedlings I put in were all devoured by the birds and rabbits.  But growing happily away all on their own were the Blueberry bushes, one that was mine and two that Mum gave us when she moved into her bungalow last year.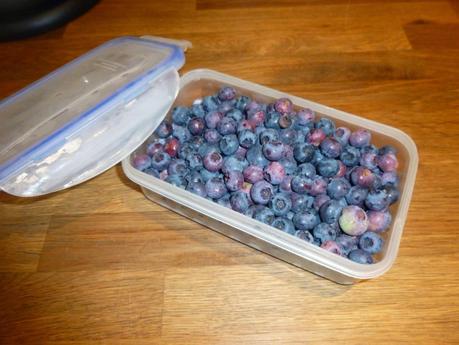 I'm harvesting these everyday at the moment, usually I get a couple of good handfuls and they get popped straight into the freezer each day.  Once the bushes have stopped cropping I will share them all out and take Mum her share.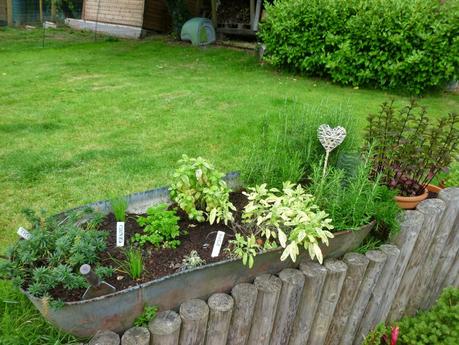 The herbs have been adding their deliciousness to all sorts of lovely meals over the last couple of months.  In fact when I can think of nothing else to cook it's so easy to simply chop a few herbs and stir them into a couple of our own eggs beaten up and then cooked gently in butter, either scrambled or left to set as an omelet.  You could never starve if you have a couple of chickens and a pot of herbs.

  Growing away in this tub are some Radishes. The potato that was growing there so well admitted defeat .... it was no match for dust bathing chickens and a certain little doggy intent on burying her bones at every opportunity.    As it was a very old packet of seeds I sprinkled them all in and as you can see most of them germinated.  So every couple of days I pull out some of the thinnings and add them to a salad or sprinkle over one of my homemade sandwich spreads.  It makes for a lovely peppery crunch.  I simply pick them, rinse them and use the lot, tiny roots and leaves.   Up on the hillside there are some Courgette plants growing in the first of the two raised beds we filled, but they are growing very slowly,  The Radishes around them are doing slightly better but we have had none to eat yet!!
So while I'm nowhere near growing what I normally grow I do have something growing which settles my conscience slightly.   Sue xx