…doesn't stay at the Con after all!
And like the Flash… The San Diego Comic Con 2012 was over in an instant. I have been home for 48 hours now and I am amazed at how fast the 4+ day convention went by. With close to 130,000 visitors descending into San Diego, I (and my group of friends) made sure we arrived in before the majority of con goers did. To savor the calm before the storm, though some of the Twihards were in line before the SDCC staff had anything set up. It was during this quiet time reconnecting with friends, we started getting an idea of what we would be seeing from Team HBO this weekend as the first of many buses/signage trucks rolled by for Game of Thrones and True Blood. My first sight was of a  Game of Thrones truck proclaiming "The North Remembers" and was quickly followed by a Season 5 Sookie poster truck.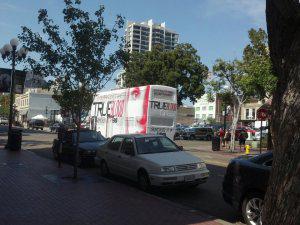 This was quickly followed by a Season 5 Eric poster truck, and I claimed my first Viking Sighting and Con officially open… for me.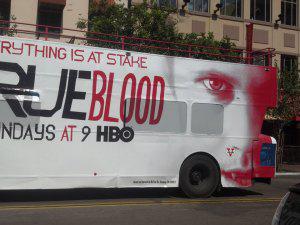 I really wanted to ride the Viking… bus.
For me the Con is split into 3 parts; True Blood Panel Day (7/14), Game of Thrones Panel Day (7/13), and everything else. On the "everything else" days, us Truebies found ourselves exploring the convention activities like the dealer floor, the outdoor interactive zones through out the downtown area, or doing a good thing by donating blood… in the name of True Blood. As they have in the past, True Blood and the San Diego Blood bank teamed up for a blood drive. If you are able to donate blood, you are able to pick up some True Blood swag which consisted of a True Blood bottle of water, a poster, and a really nice T Shirt with "True Donor" on the front. If you were not able to donate (like me) don't worry you will be able to snag some of the swag on Ebay.
The day of the Game of Thrones panel found me in line before the sun came up, of course this is nothing for when you get in line for the True Blood panel. The panels leading up to the GoT panel were very entertaining. I especially loved The Big Bang Theory and how they were able to include Jim Parsons via satellite from NYC. Not to mention that they gave away a trip into space to a lucky fan! Don't believe me? Google it

After another phenomenal panel with the cast of T
he Walking Dead
, it was time for Game of Thrones cast to take the stage. This panel was moderated by the 1 and only
George RR Martin
, who then introed the package looking back at season 2. After the cast took the stage, which included;
Richard Madden
(Robb Stark),
Michelle Fairley
(Catelyn Stark),
Alfie Allen
(Theon Greyjoy),
Rose Leslie
(Ygritte), and
Emilia Clarke
(Daenerys). Richard took to the stage to cries of "The King of the North", mine included. North… Northman… it fits

. We got some great insight into how the actors approached their stories, favorite types of scenes to film, and of a prank played on Alfie Allen (at one point they gave him a script in which he died). After some audience questions and entertaining responses, we took a look back at the season 2 footage … with an added twist at the end. The season 3 premiere date is set for
March 31, 2013
. I say this is an important date not only to Thronies but to Truebies as well, for we can now speculate that the 6th season of True Blood could possible be June 9th! Which ain't to shabby. And with that, my focus centered on Saturday… or as I cheerfully tweeted from the Wench account "True Blood Panel Day".
Thanks to the shenanigans for getting into Ballroom 20 (for the Firefly panel) on Friday, Truebies and other Panel enthusiasts (like those for the The Vampire Diaries) started lining up around 6 pm Friday evening to be able to get in on Saturday. I wasn't in line that early myself, but after the first Skars pic on tumblr showing he was in San Diego… it was like a "Caffiene is no longer needed" moment. I'm sure you understand.  After several hours of waiting in line, they started letting folks in the Convention Center to wait in the formal line around 6:30 am and into our home for the day – Ballroom 20, around 9. I was able to score some front row seats that would only be given up on my death, or after the True Blood panel – which ever came first. At this point, there were only a few panels between me… errr us… and the True Blood panel. In between panels, we were able to sneak in a few viewings of the True Blood Comic Con Trailer that some how ended up online before the panel and long before it was "unlocked" with 150,000 #SDCCTruebie tagged tweets.
Before we knew it, there was one panel to go before the cast of True Blood could take the stage… and that panel would be for The Vampire Diaries. I fully admit I was entertained on by this cast, even though I don't watch the show. You could see the affection between all of the cast and between the cast and their fans. It was pretty cool of Ian Somerhalder (Damon) to admonish the microphone attendant for cutting off a fan asking a question. He was right, Comic Con was a place where they could connect with the fans. Ian then set the wrong precedent by giving his signed name card to a fan later on when she asked.   Yes, I said it was wrong. Luckily the TVD panel ended with out incident and some cast photo's in front of the stage before they moved on to their next event. Boy are their fans loud (but we were louder)!
And then there were 15 minutes before the True Blood panel! The Comic Con staff had to make a few adjustments… like adding a third table and resetting the water for the panelists. Not to mention the name card placement. We were watching closely as they starting lining them up on the tables. First it was Alan Ball, then Anna Paquin (sadly blocked by a monitor), Stephen Moyer, Kristin Bauer van Straten, Alexan- OMG ALEXANDER SKARSGARD IS SITTING RIGHT IN FRONT OF ME.  Yeah, I lost it at that moment… and I offer my profuse apologies to those who were following me on twitter because coherence went out the window at that moment.   I am sure you understand. For giggles Chris Meloni was on the other side of Alex, followed by Rutina, Sam, Deborah, Ryan, and Joe.
Needless to say, they finished setting up and a few minutes later Alan Ball came out and introduced the True Blood Comic Con trailer. After the trailer, Tim Stack of Entertainment Weekly came out and brought out the cast 1 by 1. Alex and Kristin tried walking out together arm in arm before she popped back behind the curtain to walk out alone a moment later. Of course I could not capture this on film as the press photo corp took up residence in front of the stage. Kristin, Stephen, Anna, and Alan took their seats and Tim got down to business of moderating. I am sure you have seen the panel footage by now, so I will not bore you with the nitty-gritty details. I loved this panel, they were engaging, they were entertaining, they were very interactive with each other. It was fabulous. You could hear the affection they have for their cast mates.
I cracked up when Alex awwed during Ryan and Deborah professing how much they love working together. I cheered when Barbara Henderson (the admin of SkarsgardFans.com) was pointed out in the audience in her yellow sweatshirt (by Alex) to show her love for Pam and Eric. I cracked up even more when Magic Mike (I swear I am never getting away from this movie) came up and Joe was asked to show some moves and did so, since we all needed some pointers. But not Rutina, as she showed us her own body roll moves (Tara will be dancing the pole at Fangtasia soon). Of course Alan finished up the floor show by getting on the table and doing a body roll of his own. Anna was heard saying "I love my job" as Alan got back down, to the applause and laughter of everyone in the room (and video phone of Chris Meloni). I thought of Nymerias when the Pina Colada song was brought up to Anna and if she now knows the words… Sorry N, you just can't get away from it. I screamed "NOOOOOOOO" when Alex was asked about the Fifty Shades role (I am very open on the fact that I do not want him in this role). He admits he has no idea what it's about, though offered to read it (I hope he doesn't. His time is way to precious to be wasted). Tim moved the panel along and then it was time for fan questions.
My favorite fan question was the cast being asked what their favorite scene they filmed. Joe brought up naked time at the lake in season 4 as his favorite. Chris Meloni's was staking the kid. Alex's was very in line with the scene most talked about by the fans, the roof top scene of Godric's death. He likened it to as close to live theater you can get when filming because of the limited number of takes available (at most 3). My least favorite moment actually lead to some of the best photo opportunities (for other people thanks to the photo corp) during the panel. I am talking about when the fan asked Alex for his signed name card. Now before you get your pitchforks to hunt me down – here is why. The Comic Con International Organization specifically tells us on the website and before each panel that we are not to ask for personal items of the panelist. It's not to be mean – it's for safety… the safety of the panelist and the crowd, because nothing works up a crowd more than free stuff or something personally signed. It could lead to a melee… which did happen at the end because the rest of the cast signed and gave theirs and threw them to the crowd (remember last year where they had to pull the cast cause folks were bringing the security barrier down). Also, it could lead to you being banned from the event for a very long time. Yes rules are meant to be broken, but as this week started with a Twilight fans death because the Twihards started lining up even when they were told to wait until set up of the lines (and tents) were complete. Hopefully you can see where I was torn. Though I loved it when he gave it to her and blew her a kiss. Then I screamed my little head off when he signed Meloni's neck and kissed it (BEST. MOMENT. OF. THE. NIGHT.)
The questions wound down and someone shouted out to Anna congratulations on the babies. The panel officially ended with everyone (cast and audience) standing and giving Alan applause. Of course we had a few minutes more since the True Blood cast came out and posed in a group picture. This gave me my first glimpse of Anna and her babies bump.

She does look adorable pregnant. Once the pictures were taken, and the cast gave out their signed name cards… and my iPad survived being jumped on by the crowd *coughs coughs*… The cast left the stage to get ready for the signing. Which I admit was a smart decision of the planners, for it eliminated the problem of last year with Alex, Anna, and Stephen signing things from the stage and almost riot when the security barrier almost came down.
I was not eligible to be a part of the signing because you needed to get a bracelet from winning a drawing earlier that day in underneath the Salis Pavilion. I choose to go to the panel line where I had better luck. So I made plans to go to the IDW booth where Michael McMillian (Steve Newlin) was doing a signing for his True Blood Comics.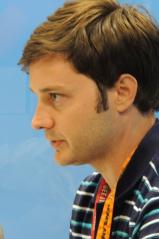 Let me tell you, he is as great in person as he is on Twitter. I loved being able to chat with him for a few moments while he signed my stuff. I thought this was to have been my last True Blood related moment of the 2012 Comic Con.
Or so I thought.
After walking away from the IDW booth and cruising the floor for a few minutes… I got a hankering to walk by the WB booth where the True Blood cast was still signing. And it paid off. I become one of those people…the ones who stop in the middle of the floor to take pictures through the crowd. I moved when asked, and *whispers* they let me stay in place at the very end (maybe 2 minutes). Which allowed me to snap some more photos of Alex through the crowd before they got up to leave, and waved good-bye.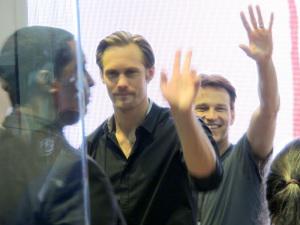 I had a huge fangirl moment taking that pic. Its a little dark, but I will keep looking at it.
It was time for me to end my True Blood Panel day… with the picking up of the True Blood panel swag.
All and all, it was a great time. I loved being able to meet some of my fellow fans I had been talking to on twitter and various forums. Those 4 days sped by so quickly, but the memories will last a life time.
Until next year my fellow #SDCCTruebies!
++++++++++++++++++++++++++++++++++++++++++++++++++++++++++++++
Here are some of the pictures I was able to take during the panel and at the signing, enjoy!
This slideshow requires JavaScript.