If you're planning on updating your kitchen soon, check out this list of indispensable kitchen items that will make your cooking experiences easier and more enjoyable. Be warned, though, if you try any of these – you'll quickly come to wonder how you ever lived without them!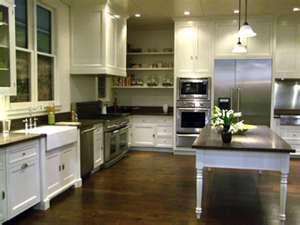 1. Wall Ovens
What's so special about having an oven in the wall? Well, for starters, you can put it at a more sensible height. That means no more kneeling down to look at the bottom shelf of the oven, or having to bend over at odd angles to baste the turkey. In addition, if you have a wall oven with more than one compartment, you can set each compartment to different temperatures, which makes managing big meals a breeze.
2. Stainless steel undermount sinks
Do you feel like you never have enough worktop space? Are you constantly balancing stuff on the edge of the sink? A stainless steel undermount sink isn't just clean and efficient, it gives you back valuable inches of worktop space compared to a traditionally mounted sink. On paper, a couple of inches might not sound like much, but you will feel the difference.
3. Household disposers
How do you dispose of food? If you're currently just bagging it up and taking it outside to the bin, why not try an Insinkerator household food disposer? The disposers made by companies such as Insinkerator are clean, efficient, convenient and a good way to get rid of food waste. With an Insinkerator disposal unit, all your food waste goes into one sealed container, which is much more hygienic, and less smelly, than putting it in an open garbage bin.
4. Lazy Susan
Are you tired of having to rummage through several different cabinets in order to find the tools that you need to cook your next meal? A Lazy Susan can be a godsend when it comes to organizing your kitchen cabinets, and will save you time, and your sanity. As an added bonus, they look stylish too!
5. Ventilation Systems
So, you've got new wall insulation and double glazing. At the time, that probably seemed like a great idea, but now, whenever you cook garlic bread the house smells of garlic for days afterwards. Does that sound familiar? If so, you should probably invest in a decent ventilation system. Extractor fans may have seemed like an unnecessary luxury when your house was a bit more airy, but now that it's almost hermetically sealed you need something to get rid of food smells.
The above are just a few suggestions. There are lots of other appliances and kitchen utensils that can be game-changers for those who love to cook. Modern dishwashers are a lot more powerful and efficient than those from 20 years ago, for example, and modern washer-driers have come a long way too.
Don't be tempted to skimp on kitchen appliances. Well made, high quality kitchen products are a pleasure to cook with, and can last a lifetime.
This post was written by Crispin Jones on behalf of The Kitchen Appliance Centre who stock all the latest kitchen must-haves such as stainless steel undermount sinks and the Insinkerator. Crispin writes on subjects relating to the home and garden.