I can't remember much of last night's dream. Vivid though it was, it faded into nothing by the time I was ready for the day and I blamed it on the amount of chocolate I'd eaten just before bedtime. Dreams are nothing more than wishes, it is said. Hopes and dreams of both the attainable and the unreachable, we can only wait and see. I would love to retire to my chosen place in Scotland, eventually.If that dream doesn't come true, I'll have to cope with a compromise and increase my regular visits instead.
Patrick Branwell Bronte couldn't cope when his hopes and dreams came crashing down to shatter his heart and soul. My interests and studies of the Bronte family have brought me to believe that Branwell, as he was known, was every bit as talented as his sisters but never approved of his own efforts.I wish he hadn't obliterated himself from the family portrait he painted. His lack of self-approval led to unsuccessful career appointments and eventual self-destruction, after the love of his life, Lydia Robinson nee Gisborne let him down. She was the wife of his last employer, the Rev. Edmund Robinson, a sick man close to the end of his life, who sent Branwell packing when he discovered what was going on. Such 'goings on' is shrouded in the uncertainty of whether there was an affair, or if it was Branwell's fanciful infatuation. When Rev. Robinson passed away, Branwell expected to be reunited with Lydia, but it was not to be. According to Rev. Robinson's Will, she would be cut off without a penny if Branwell was back in her life, so she distanced herself, married someone else, yet regularly sent money to Branwell. He was a broken man, haunted by unrequited love and seeking solace in alcohol and opium.He was further disturbed by Lydia calling out to him in his dreams. He died aged 31, of tuberculosis aggravated by alcoholism and laudanum addiction. For me, Sally Wainwright captured his character, and his sisters, perfectly in her drama To Walk Invisible.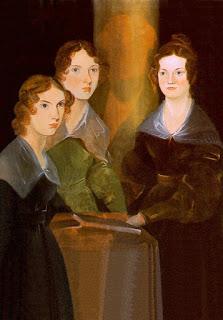 I wrote this poem about him a few years ago.
  Patrick Branwell Bronte  
Poet and artist, your fallen talents go to waste
And are trapped within the torment of your mind.
Forbidden love, so heavenly to taste
Now haunts and disturbs; no beauty left to find.
The call of temptation and no wish to be chaste,
But to be drunk on the perfume of bodies entwined.
Oh Branwell! Your vision clouded by opium and gin
And the burdening weight of adulterous sin…
PMW  
Branwell wrote this sonnet for Lydia –
  Lydia Gisborne  
On Ouse's grassy banks - last Whitsuntide,
I sat, with fears and pleasures, in my soul
Commingled, as 'it roamed without control',
O'er present hours and through a future wide
Where love, methought, should keep my heart beside
Her, whose own prison home I looked upon:
But, as I looked, descended summer's sun,
And did not its descent my hopes deride?
The sky though blue was soon to change to grey-
I, on that day, next year must own no smile -
And as those waves, to Humber far away,
Were gliding – so, though that hour might beguile
My Hopes they too, to woe's far deeper sea,
Rolled past the shores of Joy's now dim and distant isle.  
Also by Patrick Branwell Bronte, The Doubter's Hymn  
Life is a passing sleep
Its deeds a troubled dream
And death the dread awakening
To daylight's dawning beam.  
We sleep without a thought
Of what is past and o'er
Without a glimpse of consciousness
Of aught that lies before  
We dream and on our sight
A thousand visions rise
Some dark as Hell some heavenly bright
But all are fantasies  
We wake and oh how fast
These mortal visions fly!
Forgot amid the wonders vast
Of immortality!  
And oh! When we arise
With 'wildered gaze to see
The aspect of those morning skies
Where will that waking be?  
How will that Future seem?
What is Eternity?
Is Death the sleep? – Is Heaven the Dream?
Life the Reality?  
Thanks for reading and may your dreams come true, Pam x 
Email This
BlogThis!
Share to Twitter
Share to Facebook
Reactions: