What's more painful and heartbreaking than all the appliances on board your RV getting fried?
This would, doubtlessly, be the most awful experience for campers and no sane RV owner would want this to happen to them.
And for this reason, it's always recommended that you protect your electrics from the unknown by using a surge protector.
This is a pretty cheap device that helps block unsafe voltages from reaching your RV circuity and appliances, ensuring no harm comes to them.
Down below, we'll get into more details about this device, like what it really does, and why you should get one for your RV.
What Is a Surge Protector?
A surge protector a designed to help protect your RV electrical system from any issues that might come from the shore or campground power outlet such as low voltage, incorrectly wiring, lighting strike.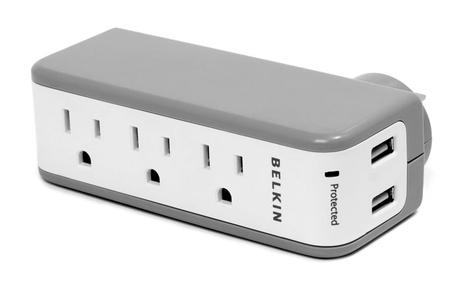 To utilize a surge protector, you simply plug it into the power source- the campground power pedestal- and then plug your RV cable into the surge protector.
The device ensures that all the appliances on board your RV requires constant voltage supply to operate effectively and safely, preventing them from getting fried or sustaining heavy damages that might cost you more to repair.
Simply put, a surge protector helps keep your RV electric items safe.
How Does It Work?
To be able to do its job, a surge protector utilizes a simple yet highly effective working principle.
Once you hook it up with the campground power outlet and your RV cable, it works tirelessly to detect any dangerously low or high levels of voltage. In case it detects any of these, the protector shuts down automatically, thus ensuring the voltage damage doesn't reach your electronics and cause damage.
It's worth noting that there are two most common types of surge protectors for RVs you can find on the market today namely, the RV surge protector and RV electronic management system (EMS).
Let's briefly describe each of them below:
RV Surge protector
This is the most affordable of the two models and comes dedicated to protecting your RV electrical system from sudden electric surges or higher than normal voltages. This explains why this device is referred to as a "surge" protector.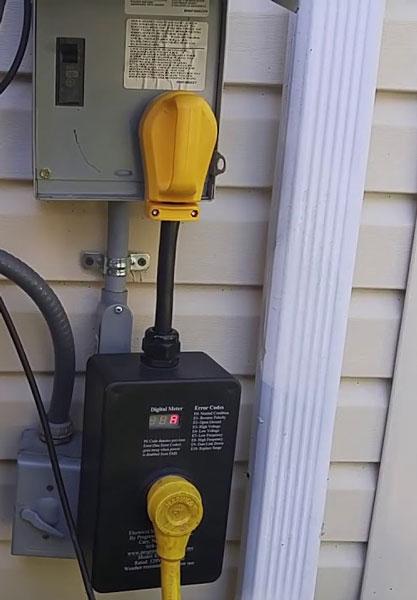 As you can easily tell, this device doesn't offer full protection to your RV electric system as it only protects against surges. It's popular among beginner campers.
RV Electronic Management System
An EMS (electronic management system) comes engineered to offer full protection to your RV electrical system. It does this by shielding your RV electric items and appliances against high and low voltages, power surges.
Moreover, it protects your electronics against common electrics-related issues like overheating of the plug/receptacle, high neutral, reverse polarity, miswired power outlet, and even open ground.
Since the EMS offers more protection than a surge protector, it comes at a higher cost.
Which of the two devices to buy? It's no brainer than the best RV power surge protector crown goes to the EMS for the full protection it delivers.
Nonetheless, we advise you to go for a model that matches your budget as well as specific camping needs.
Do You Really Need A Surge Protector For Your RV?
As long as you'd be using outside power source in your RV, you'll absolutely need a surge protector. You don't want to imagine your RV appliances getting fried and incurring high repair and replacement costs.
You might come across some Rvers confessing that they have never used a surge protector all their camping life and not a single appliance in their RV has suffered any problems. But you'll also come across Rvers who confess having plugged their RVs into an outside power source and fried their entire electrical system on their first trip.
What we're trying to say is, you should NEVER gamble with the idea of using a protector when connecting to an unknown power source, whether it's at the RV park, a friend's home, storage unit, etc.
It only takes one time to lose all your RV electrical system and appliances!
Even if the campground owners convince you that their power outlets are properly wired, don't take chances. Plug in that surge protector!
Some campers say that all you need to keep your items safe is a voltage meter. But that's untrue…a voltmeter is no match for a surge protector! The meter will only monitor the voltage changes but can't do anything to stop the low or high voltage or power surges from reaching your RV wiring and appliances.
How To Choose The Right Surge Protector for Your RV
Assuming you have already made your mind that you want to invest in a surge protector to safeguard your appliances, you might be wondering how you can choose the best protector for your RV.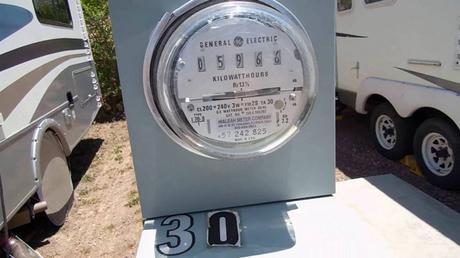 Type of RV protector
FIRST…you'll need to decide on whether you want a simple surge protector or an EMS (electronic management system).
As we mentioned earlier, the ems comes at a higher cost than the surge protector, so you'd want to keep your budget in mind when choosing between these devices.
You'd also want to keep your camping needs in mind when deciding between the two models.
For full-time Rvers, we highly recommend you to go for ems to enjoy full protection!
Once you decide on what type of protector to go with, the reaming part will become easier.
30 vs 50amp electrical service
Next, you'll need to check the electrical supply of your RV to enable you to pick the right surge protector.
The RVs typically come with 30 amp or 50amp electrical service. You can easily determine your vehicle's electrical supply by simply looking at the type of plug it comes with.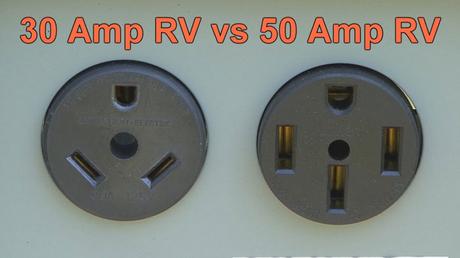 A 3-pin plug means a 30amp model while a 4-pin plug is for 50amp RV.
Smaller RVs that contain fewer electric items usually have the 30 amp service.
As you check through various RV surge protector reviews, you'll discover that the modern RVs and trailers usually feature the 50 amp service while the older models come with the 30 amp service.
The ideal surge protector for you is one that matches your RV's electrical system. That is, a 30 amp service RV works with a surge protector labeled for 30-amp RVs.
Portable or permanent surge protector?
You'll also need to choose between a portable and permanent surge protector.
A portable protector doesn't require any installation. You simply plug it into the power outlet and then plug your RV cable into it and it's ready for use.
The advantage of using a portable model is that it requires no installation and you can easily replace it if it goes bad. However, it can easily get stolen. Or you might end up forgetting it in the campground.
The permanent model is usually inside the RV, so some installation will be needed for this one.
The key benefit of having a permanent surge protector is that it becomes part of your system and you don't have to worry about the device getting stolen or leaving it behind. Unfortunately, installing it is complicate and requires some experience.
Final verdict
A surge protector is a must-have device for Rvers who plan to use outside power source for their appliance and electric items. The device helps safeguard your appliances against power-related problems such as low and high voltages, power surges, and lightning strikes, which can end up damaging your appliances and costing you more to repair and replace them.
You can opt for a surge protector or an electronic management system (EMS) depending on the level of protection in your RV as well as your budget.
You don't want to feel the pain of witnessing all your RV appliances getting damaged or fried because you ignore the protector. Get a surge protector today and keep your electronics safe.