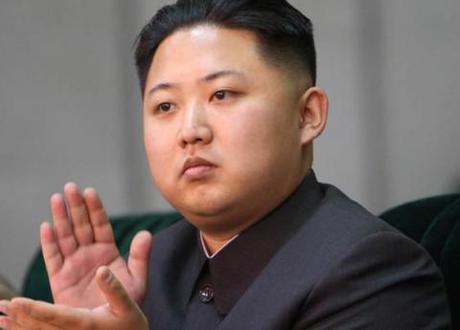 Kim Jong-un, the leader of North Korea, is married.
Sorry, ladies: Kim Jong Un, North Korea's youthful supreme leader, is off the market.
North Korean state news let it slip casually on Thursday that Hermit Kingdom's leader, who succeeded his father, Kim Jong Il, in December, is married – and, subsequent reports have explained, has been since 2009.
Read the Korean Central News Agency's report on the opening of the Rungna People's Pleasure Ground – and oh, by the way, Kim Jong Un is married.
The lucky lady is one Ri Sol Ju, a former singer and possible cheerleader who was groomed to become the Western educated Kim Jong Un's consort. The news came in a report on the leader's visit to a newly finished amusement park, where he was pictured with an attractive woman at his side. The disclosure is a departure from the behavior of his father and his grandfather; neither of the country's former dictators were ever pictured with their wives at public events, possibly to better cultivate the cult of divine personality around them. Kim Jong Un, however, as The Telegraph noted, has spent the months since his assumption of power cultivating a more outgoing and informal persona. Whether this indicates a different direction for the impoverished, isolationist, but nuclear-armed regime remains to be seen.
Who is she?
Ri Sol Ju was, according to a South Korean legislator, was born in 1989, studied singing in China, and may have visited South Korea in September 2005 as a cheerleader, part of a cross-border athletic event. "If true, and like all news about North Korea it must be read with a certain amount of scepticism, then both Kim Jung Un, who went to school in Switzerland, and his wife have seen and experienced the outside world," ITV pointed out. Other reports suggest that Ri was singled out by Kim Jong Il during a singing performance as a potential bride for his son in 2008, after he had a stroke and panicked into working on his succession plan. There are even rumours that the not-so-newlywed couple have a child, born in 2010.
What else?
According to the analysts the BBC spoke with, "Ms Ri studied science and is from an upper-class family, her father being a professor and her mother an obstetrician." And that's about it on the personal details front. Journalists and observers are now resorting to reading the tea leaves of the couple's public appearances. The BBC's Korea correspondent, Lucy Williamson, noted that her Western-style clothing has prompted many to speculate on how Kim Jong Un feels about the West. "The young leader has projected a much more relaxed, chummy, open approach since taking power, at least in public. How much that change is reflected in his plans for the country's economic and political future is still unclear."
Why are we just hearing about her now?
The new leader's youth and inexperience has been a liability for the Kim dynasty, so some are speculating that bringing out the wife now is to show that Jong Un is not a child, Chang Yong-suk, of the Institute for Peace and Unification Studies at Seoul National University told the AFP. "If he went around alone, people would look down on him as a young lad, but with his wife present, he could show he is the head of the family and also an adult." The news also comes shortly after Kim Jong Un was named "marshal" of the North Korean army, a move seemingly designed to reinforce his position at the head of the country.
What does the US think?
North Korea's second most hated enemy (just behind South Korea, it appears), offered its felicitations to Kim Jong Un on his grand match, but also took the opportunity to note that all is not well in North Korea. Said State Department spokeswoman Victoria Nuland, "Obviously our concerns first and foremost are for the North Korean people, and our hope that conditions for them will improve."
North Korean state television reports on the auspicious event – the opening of the amusement park, that is – with a brief mention of the marriage:

More on North Korea

Kim Jong Un consolidates power in North Korea
Why are dictators so weird? Five top dictators
North Korea rocket launch fails