Music superstar Rihanna is of course making her motion picture debut in the big budget, alien packed, action blockbuster Battleship, and she was in London yesterday to publicize the movie ahead of it's UK release on April 11th. Swedish magazine / website "Expressen"  took the opportunity to ask her what she thought of her Scandinavian co-star Alexander Skarsgard, and here's what she said:
When Express asked Rihanna what it was like playing against Alexander Skarsgard calls her up:

- Alexander Skarsgård is so hot! I had to force myself not to look. He is so wonderful to watch. I could stand and stare at him all day.
"He's very nice"

Rihanna speaks at length about the Swede.

- I had to hide me and the sly look at him across the screen, so here, she says, holding up his hand and looks up with a fond glance.

Although Robyn Rihanna Fenty, who is her real name, is one of the world's greatest artists, she felt nervous on the set. Then she got the support of Skarsgård, 35.

- He is so experienced and he was very kind to me that made the film for the first time.
So it looks like Rihanna had pretty much the same reaction to our sexy Swede as the majority of women do, and naturally she has our complete sympathy. It must have been a tough job working on Battleship.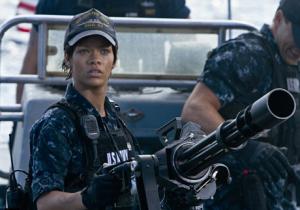 Please excuse the google translation effect!
Original article is on "Expressen" here