I just read the post The Costs of Facebook's New Timeline for Pages, and it got me thinking. One part that stood out for me was this:
Bigger brands have more money to spend, so it will be easier for them to make the proper changes and transition smoothly. For small companies, the initial costs to make the transition might come as a huge shock…Developing a banner photo and new logo will cost brands some serious money, if they are looking to do it right.
Switching over to Facebook Timeline does present some issues that need to be considered and does require some changes to optimize for the new style. But initial costs that may come as a huge shock? Well, maybe if your consultant or developer is overcharging you.
There is no reason that transitioning to Timeline (something that Facebook is making permanent as of March 30), has to be pricey or complicated. Yes, you do need to take some time to think through how the new design can be leveraged to help you better achieve your goals. But let's not go crazy here.
Below is a quick reference for the main things you may want to consider.
Update your About section - Under Edit Page–>Basic Information, pay special attention to the About line. Make it short, sweet, actionable and include a link (http:// is not needed to be a live link as long as you can include www). You want the link you place there to show on your Page and lead visitors to a strategic site or page.
Make sure your About and Basic info content properly communicates your goals and try to include a key action item.

Modify your Cover image – Be careful not to violate Facebook's rules for these*, but you can include wording and a tagline on the image itself. Some brand Page cover images include interesting designs that draw the eye some or all of the four apps boxes that are lined up under the cover image. (New optimal dimensions:  851 x 315)
Edit your Profile image – Profile image dimensions are now 180×180. When you resize or redesign your image to fit, keep in mind how the icon will look next to your Page posts (choose your thumbnail wisely when you upload your new profile pic). If you're artistically inclined, you can also devise ways to tie your profile image into the larger cover image.
Think about your apps. Tabs are now called "apps" (you may have noticed they haven't been tabs for a while). There are four visible apps lined up horizontally under the cover image, three of which you can modify and move around. The Photos app is immovable and the image thumbnail is not changeable from last photo uploaded. Videos can be moved around, but the image displayed is the last video uploaded. You can change the thumbnail display images on the app boxes for any of the apps you add to your Page. 
What apps you display (three) should be based on your goals and preferably be action oriented. Examples could include getting people to sign up for your email list or to register for your events. You can use the default events tab here, but note that it will display the image from the last event you posted so pay attention to how this looks.
If you're integrating "F-commerce" i.e. an online store into your Facebook Page, this could be a critical app to display. Make sure the thumbnail you use is clear, action-oriented, and consistent with your brand look and feel.
Here are a few examples of how some major brands are currently handling apps boxes.
Macy's includes a contest, VIP discounts…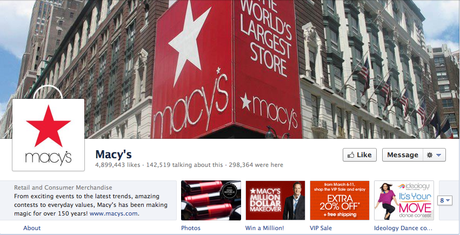 Subway includes News and Offers, Events and a link to their Flavorizer app where you can create your own virtual sandwich combo: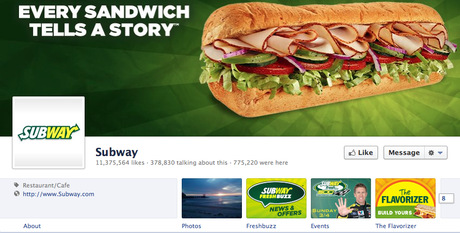 Keep in mind that even though additional apps are not immediately visible, if someone does click to see more apps, you want the next most important ones to be ahead of the less important ones. Consider removing any superfluous apps to keep this area uncluttered.
Additional apps on Subway's Page: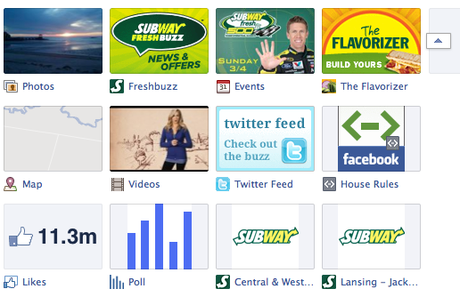 To edit the image on an apps box, simply click the button to the right of the first four apps that show, then hover your cursor over the app you want to edit. Click the pencil that appears, then choose Edit Settings. If you are modifying an app where the image can be changed, you'll have the option to click "Change" next to Custom Tab Image. On these apps, you can also change the few words that appear beneath the thumbnail. Again, think actions!

Rearrange apps by clicking on the pencil and choosing to Swap Position With another app. Remember: Photos will always remain on the left side of the row. The size of the app thumbnail is now 111 x 74 pixels.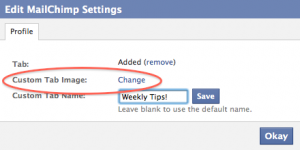 Set up an account with a third-party apps company. To easily add new apps, try a tool that helps you do this. If you're making changes yourself, pick one that requires minimal design or programming skills. I like ShortStack to develop custom apps for Facebook Pages, and they are Timeline compliant. The cost for a subscription to create unlimited apps for up to 25,000 fans (on one Facebook Page) via ShortStack is $15/month. Alternatives to ShortStack include TabSite and Pagemodo. (referral links)
Don't get duped into thinking you need to spend thousands of dollars for the transition to Facebook's Timeline for your Page. If you need guidance regarding Facebook Timeline changes, feel free to leave a comment here. If you need a referral to someone who can help you make these changes for you at a reasonable price (under $1000), let me know.
*These are Facebook's rules for Cover images:
Cover images must be at least 399 pixels wide and may not contain:
Price or purchase information, such as "40% off" or "Download it at our website"
Contact information, such as web address, email, mailing address or other information intended for your Page's About section
References to user interface elements, such as Like or Share, or any other Facebook site features
Calls to action, such as "Get it now" or "Tell your friends"
All cover images are public, which means anyone visiting your Page will be able to see the image you choose. Covers must not be false, deceptive or misleading, and must not infringe on third parties' intellectual property. You may not encourage or incentivize people to upload your cover image to their personal timelines.
Have you made a switch to Timeline on your Page? Share your Facebook Page URL here so we can check it out!