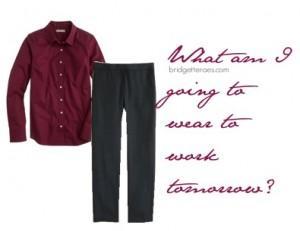 Regardless of how stylish you may want to be at the office, it is easy to fall into the button down shirt and tailored pants slump.  While these aren't bad pieces for the base of a work look, if you don't do something to jazz it up, it can start to look and feel really stale.  Therefore, for tonight's post in this series, I am addressing ways to spice up basic button downs and pants outfits that will only take an additional step or two.  After all, who really wants to put that much work into putting a look together for work the next day, especially on Sunday?
Before I get into outfits, I want to talk about the importance of fit on these key, basic pieces and stress that not every pair of tailored work pants or basic button down shirt is created equally.  When it comes to simple and classic pieces like these, fit is crucial and why you can see one woman looking timelessly elegant in a basic button down shirt and tailored pair of pants and why another person looks schlumpy and unkempt in something similar.  When investing in tailored pieces, no matter what the price, be sure to tailor when necessary.  A simple hem can go a long way towards appearing polished and looking for button downs that either fit the shape of your body or getting them tailored to fit your proportions can also an important step.  With classic pieces there is no hiding poor fit.
The next thing that is important to consider when putting such a classic look, grounded in such basic pieces, together is how you finish the look.  One of the biggest reasons clients come to me is not because they consider themselves to be fashion nightmares but simply because they feel blah and ambivalent about their outfits.  The problem they deal with is that nothing about their outfit is memorable or makes any type of a statement about who they are.  It makes sense if you think about it, there is little personality to be found in a basic pair of pants and a button down.  It's what you do to these basic pieces that infuse personality and style.  Without these finishing touches there is no opportunity for you to shine.
What can get challenging for many is taking the time for the final step for accessorizing, despite the fact that it makes a difference.  That said, below are three button down and pants outfits that have minimally accessorized, showing that it really doesn't take a lot to make these basic outfits look stylish.
Button Downs and Pants Outfits
Look #1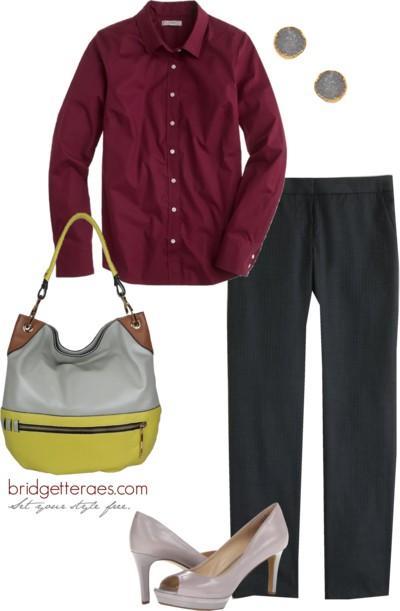 This first look uses a pair of tailored pants and burgundy button down shirt, both from J. Crew.  If you were to just throw on a basic black pair of shoes, grab a boring handbag and choose safe jewelry the outfit would be just fine.  Of course, there would be nothing wrong with it, but it wouldn't exactly have any personality either.  By just changing up the shoes to a gray pair, like this pair from Nine West, a pair of more interesting, yet versatile pair of earrings and using a bag that makes more of a statement, like this fun one by Oryany, available at Lord & Taylor, the outfit is finished with only a few steps.  In fact, there aren't any additional steps, you would be wearing shoes, jewelry and carrying a handbag, anyway.  Why not choose more interesting ones?
Look #2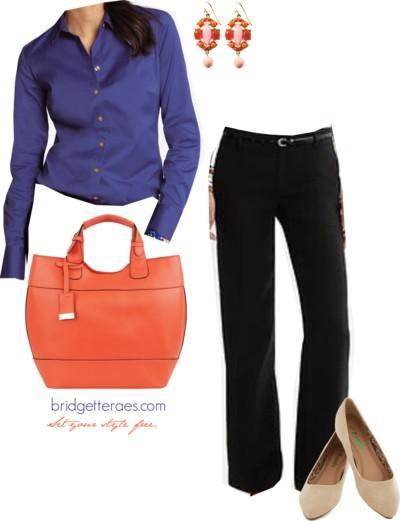 With a classic pair of black pants from Banana Republic and a cobalt blue button down from Ann Taylor, you get this crisp, jewel-toned, look.  However, you can make it even better with a few additional steps.  To add more sophistication to the outfit, try a nude pair of shoes, like these from Modcloth, and colorblock the cobalt with coral.  Together, the coral and earrings play off the cobalt beautifully and make a simple outfit much more interesting.
Look #3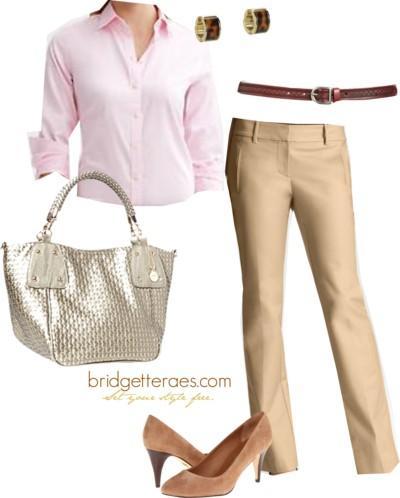 For a softer look that still makes a statement, these modern khakis from Ann Taylor delicately work with this non-iron cotton sateen pink shirt from Banana Republic.  Keeping it soft, yet accessorized, I chose a tan suede pump, a metallic tote, tortoise earrings and light brown belt.  Feminine and professional at the same time.
It really doesn't take much to pull a complete look together.  Just remember to finish your outfit.  Truly, it's the finishing touch to your button downs and pants outfits that makes all the difference.


Repost This Article