Purchase the book on the iBookstore
TAKEAWAY: Smartphones, tablets and news: an interesting mix, and becoming more prominent each time, according to a study that validates what we suspected PLUS: Gulf News of Dubai and some fascinating and fun-fact filled infographics to celebrate 50 years of James Bond films AND: Gulf News's newscast revisited

Anyone still doubting the power of mobile devices for media consumers needs to read the most recent Pew Research Center's Project for Excellence in Journalism (PEJ) report.
It is unequivocally a validation of what we have observed directly and not just in the United States, which is the territory covered by the study.  Nor surprisingly, the study relates that 50% of US adults own either a tablet or smartphone, while 66% of tablet or smartphone owners get news on their device.
Three things stand out in the study and relate specifically to what we do as editors and designers for mobile devices:
—News remains an important part of what people do on their mobile devices-64% of tablet owners and 62% of smartphone owners say they use the devices for news at least weekly.

—Mobile users, moreover, are not just checking headlines on their devices, although nearly all use the devices for the latest new updates. Many also are reading longer news stories - 73% of adults who consume news on their tablet read in-depth articles at least sometimes, including 19% who do so daily. Fully 61% of smartphone news consumers at least sometimes read longer stories, 11% regularly.
—While mobile technology allows people to get news anywhere, and any time, most people get news on these devices when they are at home-and roughly half of mobile news users get news on their device just once a day.
What it means for us:
As we conceptualize the architecture, content flow and design for smartphones and tablets, it is obvious that we must emphasize ease of navigation (headline lists for phones that lead to short summaries of stories), pictorial navigation for tablets (with longer texts, enhanced by such visuals as photo galleries, videos and pop ups).
What many of these users seem to be doing is getting alerted to news on their phones, then coming to read in depth those stories that have peaked their interest when reading
on their tablets.
Lean forward and lean back resonate for me with this study.
Take the infographic challenge here:
This could be fun about the study quoted above. The Economist Group and the Pew Research Center's Project for Excellence in Journalism (PEJ) invite you to play with their data.
http://visual.ly/pej-economist-challenge
Gulf News: Celebrating 50 years of James Bond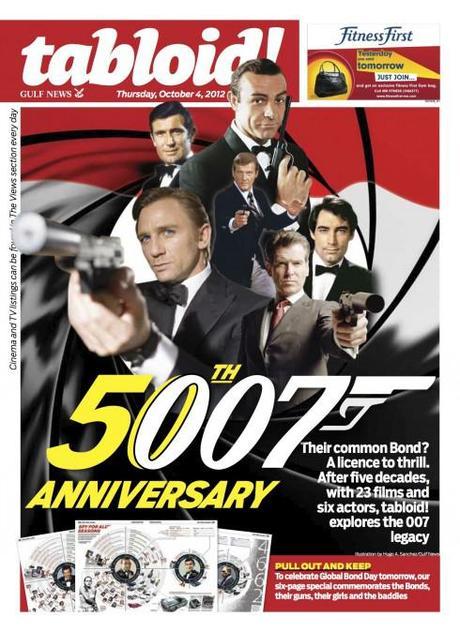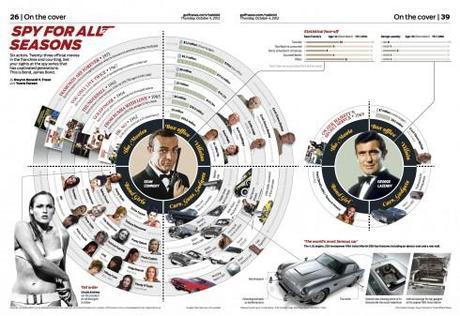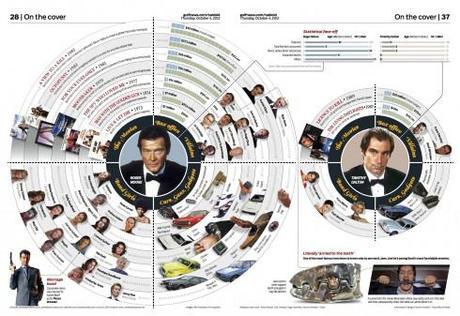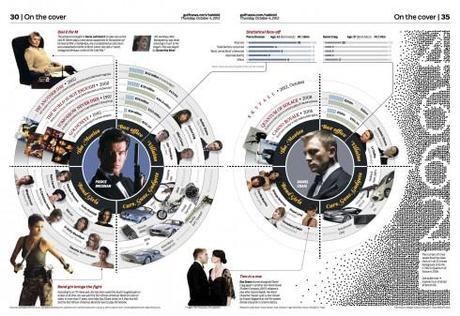 Behold those marvelous graphics that tell the story—-or, in this case, stories—-of a favorite subject.
At the Gulf News of Dubai, the graphic artists deserve our hat off for a marvelous collection of detailed double page infographics in the Tabloid section today, each highlighting one of the several actors who has played the role of James Bond, Agent 007.
But that is not all: with each profile of James Bond also comes information about the revenue generated by films in which the actor appeared, the cars and other high tech gadgets used, and, of course, those gorgeous and unforgettable Bond girls ,from Ursula Andress to Hally Berry, through the decades.

I am sure that our info graphics colleague and expert, Alberto Cairo,author of The Functional Art,  would approve.
These graphics provide plenty of storytelling, but they are also aesthetically pleasing.
Miguel Gomez, design director at the Gulf News, reminds us that this was an enterprising bit of work, as it is obvious in the details: "It took four people in our team about three weeks to complete the work, which involved research, adapting images, sometimes from the films themselves, and, let us not forget, the 4662 bullets that targeted James Bond."

For the lead artist on this assignment, Dwynn Ronald V. Trazo, one of the challenges was to adapt all that information to the small canvas of the Tabloid format, 29cm high x 22cm wide. Gulf News is a Berliner format newspaper, but Tabloid is a folded version of the page.The artists are thankful to Tabloid editor, Natalie Long , for providing the space to accommodate their proposal.
In artist Dwynn's own words:
I originally planned to do a James Bond Skyfall (23rd film) page for late October. But when S.M. Arshad (Design Editor) told me the 50th anniversary was October 5, I knew I had to do something with a wider scope, and quick. Miguel Gomez (Design Director) and I shared essentially identical ideas but with different presentations. My concept of using crosshairs to target and break down all 22 films according to the actors who played Bond has a big relevance to the movie genre and I knew that is how I would shape the 6-page infographic. The info the readers get is straightforward : the movie/poster/synopsis, budget/box-office, villains, cars/guns/gadgets and Bond girls all integrated in a circular and compact pattern. There is secondary info coming off the circles as well. At the end of the 6-page special is a very time-consuming side graphic about the number of times Bond has been shot at. And since I am using crosshairs for the concept, it is only logical to follow it up with bullet holes. Moving those bullet holes in place took me at least 6 hours to do. All in all, production of this Bond package took me 12 days, straight. But it is all worth it in the end.
Here is the talented team involved in this project at the Gulf News:
Dwynn Ronald V. Trazo (Senior Infographic Designer)—Research + sourcing out pictures + copy + infographic
Yusra Farzan (Tabloid staff reporter)—Main research + sourcing out pictures + copy
Natalie Long  (Tabloid Editor)—Checked typo errors
S.M. Arshad & Hugo Sanchez —Helped in sourcing out pictures and cut-outs
Gulf News: the noon newscast in action
The scene in the Gulf News newsroom Wednesday during the noon time newscast

As I am in the newsroom of the Gulf News all of this week, I enjoyed watching the team in action as the newspaper broadcasts a 12 noon newscast.
We reported about this in the blog a few days ago, and today was my first chance to see it live.  The editors select some 8 news items of interest for the newscast, and five different editors rotate doing "anchor" duties.
While the emphasis is on local and regional news, international news of importance are also added, in today's broadcast the US presidential debate taking place tonight.
It is also an opportunity to provide special feature stories, such as the James Bond 50-year anniversary (see above).
The newscast has proved to be so popular for Gulf News that is now considering doing an early evening broadcast as well.
Of special interest today:
A tablet conference in 2012
http://www.editorsweblog.org/2012/10/03/a-tablet-conference-in-2012
Pages we like

Imagine that all of these great pages appeared in only one edition of Germany's Bild were all sent to us by Frank Deville, who liked them as much as we do.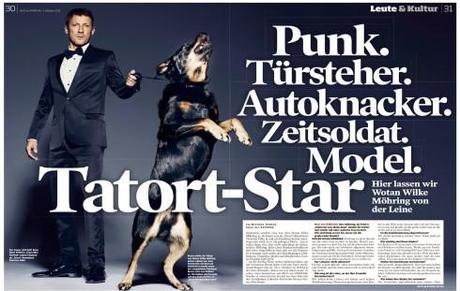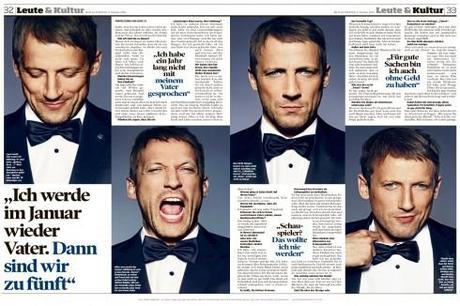 Wotan Wilke Möhring: punk, bouncer, carjacker, soldier, model…and now German movie star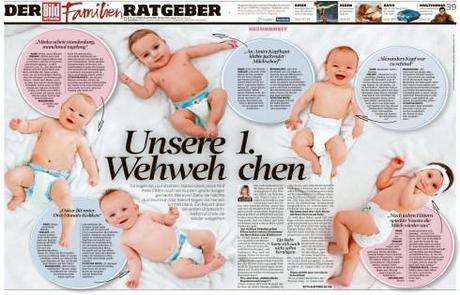 Family page: our number one problem—Pains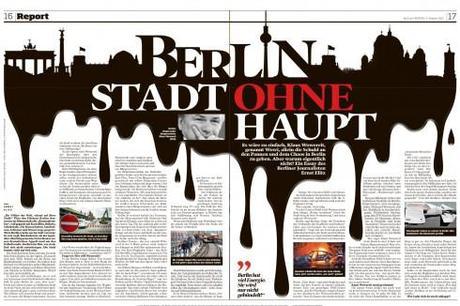 Berlin:city without a head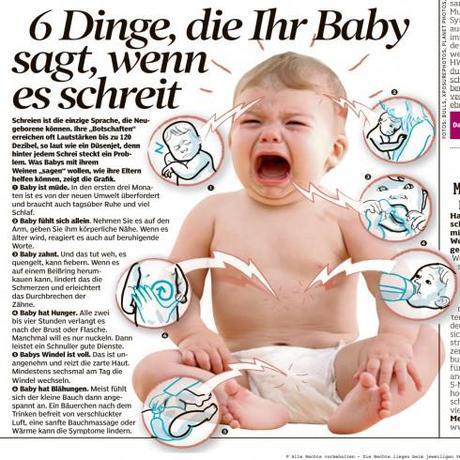 Why a baby cry? Here are some of the most obvious reasons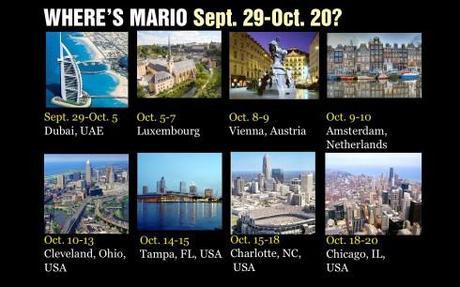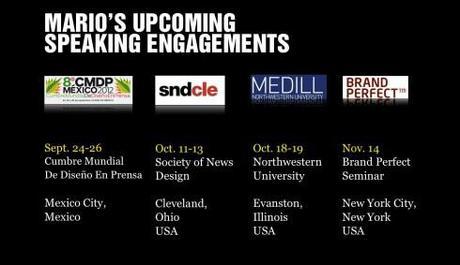 1st Middle East News Design Conference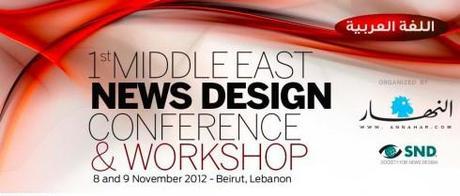 It promises to be a great program, and a historic one, too: the first SND Middle East gathering. Put it on your calendars: November 8 & 9, in Beirut, Lebanon. Sponsored by An-Nahar and SND.
For more information:
http://www.snd20events.com/conference/
TheMarioBlog post #1109