Yesterday I awoke grumpy, short-tempered and restless. Today, I can hardly stop smiling. I sold a table on Craigslist the other day and treated myself to a babysitter and a Peppermint Mocha with an acquaintance that I met at a Girl's Lunch last year. She is a Passion Test Facilitator. It's basically life coaching, but with a specific method.
A couple of weeks ago I received one of her newsletters that posed the question, "Are you who we're looking for?" Chris and Janet Attwood, the transformational leaders who developed the process and published the book,
The Passion Test
, were announcing the calendar of upcoming certification training around the world. This isn't the first coaching program I've felt drawn to so I checked out the book from the library, started reading and e-mailed her for a coffee date.
For years I've been interested in spirituality and new thought. Since the movie
The Secret
came out, I've studied the Law of Attraction and the works of the teachers that were in the film like Jack Canfield, Joe Vitale and Marci Shimoff, author of an excellent book called
Happy For No Reason
that everyone should read. Way back in my university days I studied with the goal to become a counselor, but then I met my husband and my life took a different path (to begin with, 5 years in Singapore... another story).
I've been seeking and searching all these years for something that felt just right for me. Like trying on shoe after shoe trying to find the perfect fit, I've worked in hotels, for non-traditional chiropractors, in women's organizations, as a Kindermusik educator, a wine consultant and a small retail business owner (wine again!) - all people positions. And as a writer, of course, which I am passionate about, but I've come to realize that I need more than my computer (see my Social Media rant of a few days ago).
As I traversed through all of these different avenues of employment and self-employment, trying to balance my desire to have a flexible schedule for my family and an income that has no ceiling, I asked myself the age-old questions: 
What's my purpose? My path? What brings me joy, or rather
 passion?
What am I supposed to be doing, being or having? 
The Passion Test helps you figure those questions out and it is so much easier than it seems! 
After an hour with her I was able to clearly state that my purpose in life is to help women just like me - those of us who get sucked into the vortex of domesticity and mothering young children. We lose ourselves to the point where we can no longer even identify what lights our fires! What, besides our children, husbands and homes is important to us? A few weeks ago I honestly couldn't answer that question. Maybe I didn't have the answer, but more likely fear kept me from saying it out loud, just in case it might compromise the comfort of anyone else in the world, especially my nuclear family. 
My passion, my mission, my purpose is to help and inspire women to identify and then live their own passions. As I step into that role, I see myself working with young women as well, and eventually being a speaker. A big speaker... but first steps first, I am stating my intention:
I am going to become a certified Passion Test Facilitator. The amazing, liberating thing is that I don't have to answer the question of how ($$$) or even when. I just need to take one step at a time and trust that the next step will appear before me. (State the) Intention, then (give) Attention to the things that fuel my fire and support the intention. I'll get there, because this pair of shoes feels like it was made just for me. 
So that's what I'm doing. And I feel amazing! Love and gratitude to you for reading this entire post.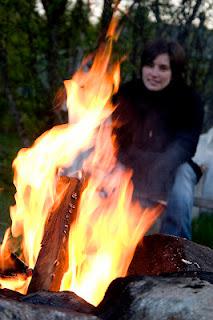 (photo credit: Nina'H via Flickr)
What lights your fire?