Sometimes the tale behind an image is as breathtaking as the image itself – this time literally so.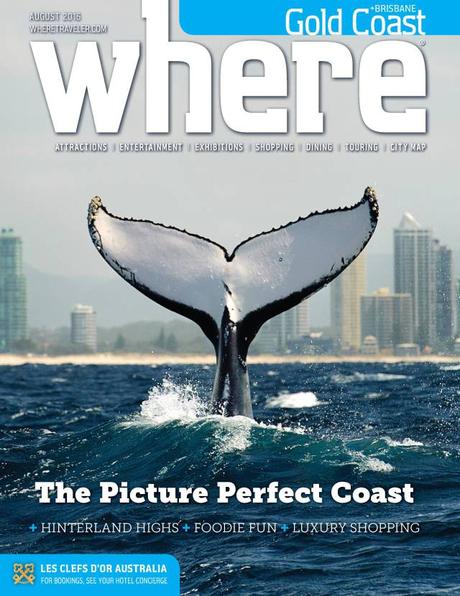 Where Gold Coast magazine August 2016 cover
I was enthralled by the image on the cover of the latest issue of Where* Gold Coast magazine this month. The juxtaposition of an impeccably sharp whale tail with Gold Coast high-rises in the background and hinterland in the distance perfectly encapsulates the diversity of the Gold Coast – from beach to city to bush; wild nature to urban cool.
So what does it take to capture an image like this? Well, it cost professional photographer Danielle Lancaster of Blue Dog Photography a broken rib.
The image was taken in 2015 while Danielle was conducting a Humpback whale photography workshop. As you can see by the chop on the water, it was a blustery day, with winds gusting up to 30 knots.  She had one arm wrapped around a metal upright on the boat to help steady herself, but just as she pressed the shutter on this image, the boat lurched and thrust her against the metal post fracturing a rib with an audible crack. Ouch! But like the trouper that she is, she took it in her professional stride (after a few choice words I believe).
"I soldiered on, even having a champagne at the end with everyone on board, as one does," she said.
The Where cover image was chosen by editor Roshan Sukhla and General Manager Anthony Gallagher. "Danielle's whale photo stood out amongst all our other possible cover shots," says Roshan. "It's such an amazing shot, especially with the beach and Gold Coast skyline in the background. It just sums up what the coast is about – glorious beaches and wondrous wildlife."
There are obviously some elements of luck in this image – the cresting wave, the angle of the tail to the photographer, the glint of sunlight on the tail – but there is an enormous amount of skill involved, and Danielle shares some of her tips on photographing whales in this article for Travel2Next.
Better still, sign up for one of Blue Dog Photography's many workshops or tours (including online workshops). I recently traveled on her Outback Photography Tour and it was a truly enriching experience (you can read my upcoming article soon in escape.com.au).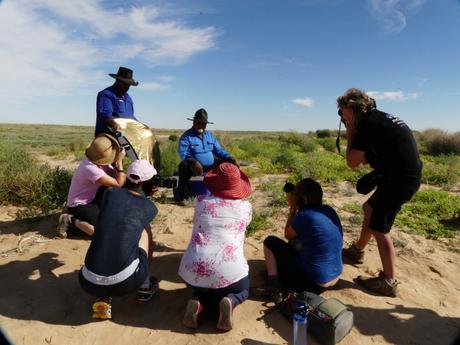 Outback portraiture session on a Blue Dog Photography tour.
Danielle is a natural teacher and she nurtures all levels of photographers with equal passion. She focuses on capturing the best possible image in-camera (rather than faffing around with post processing – yeah my kinda girl) and is not precious about what sort of camera you use; we took shots on our phones as well as our cameras.
Check out the full list of Blue Dog Photography courses here and watch out for a possible whale photography workshop next year.
Talking of whales, Craig Platt, managing editor of traveller.com.au, captured video image of a killer whale in the Galapagos 'tossing a turtle'. Check out the story and images here.
More: www.blue-dog.com.au
*Where magazines are city-based travel guides giving the latest on what to do and where to go in more than 100 destinations around the world including Melbourne, Sydney, Brisbane and Gold Coast. www.wheretraveler.com