Great news! Alexander Skarsgard made it through the quarter-finals, and has now moved on to the semifinals in Wetpaint's March Man-ness 2012!
You may remember this is the poll tournament to determine who is TV's sexiest guy! We think Alexander Skarsgard should make it to the top spot!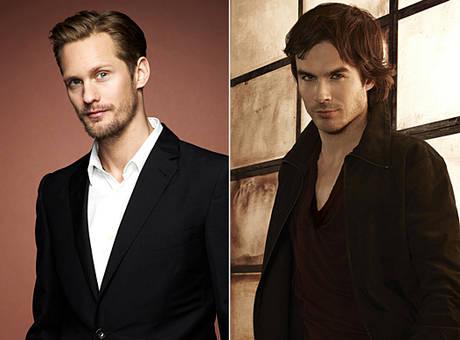 Photo credit: John P. Johnson/HBO ©2011 Home Box Office; Frank Ockenfels 3/The CW ©2011 The CW Network
The bad news is Alex is up against Ian Somerhalder (Damon Salvatore, The Vampire Diaries). You know what that means…yep, he's already losing in this one. Right now, Alex has only 14.67% to Ian's 85.33%! YIKES! Unfortunately, I don't think Alex will win this one, but let's see if we can make it a respectable loss, shall we?
This is what Wetpaint says about this match up…
One could see this as a choice between blonds and brunettes, but it's so much more than that. We can't help but swoon over the confidence that oozes from True Blood's Alexander Skarsgard (Eric Northman) and Vampire Diaries star Ian Somerhalder (Damon Salvatore). So which to choose? A-Skars is our favorite thing to ever come out of Sweden — above even the Nobel Prize. He has a great sense of humor, an amazing bod, and a total willingness to get naked. Ian's a Southern boy with a bleeding heart, a perfect jawline, and the sexiest smirk ever.
Polls close at 12 p.m. PT on Friday, March 23. Round 3 will open shortly after that!
You know what to do…cast your votes and share this with all your friends!
You can cast your votes here: Alexander VS Ian
Thanks Eric & Sookie Lovers!