Earlier we have been experiencing wet spells but these two days have been really hot outside, especially in the afternoon. Some of my plants are looking really awful as earlier they were attacked by some hungry snails.
Those pesky snails really like succulents. I found one chomping on the succulents one morning at one side of the pot below, where I have planted a few types of succulents. Fortunately I found that snail early. Only some sedums were destroyed.
This Weeping Barbados Cherry is not spared from being attacked by the snails too. After the flush of flowers below, the plant was not doing that well as the snails ate up some parts of the plant.
Meanwhile, my Rosemary seems to be doing fine. The plant becomes bushier as it grows...
A butterfly! This time, just resting on a leaf of a trailing rose. The rose shrub is looking really horrible currently. Many leaves were chomped up by snails.
I am really proud of this pot of Mosquito Plants. Propagated them using cuttings earlier. Now they are looking like store-bought ones, yay!
My pot of Kaempferia pulchra bulbs are growing lushly and flowering non-stop.
With the current clear skies, I hope that the snails are going to be kept at bay. Have a wonderful day!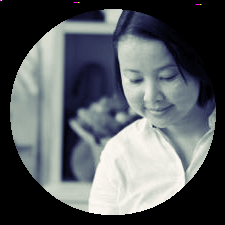 Share your experience and your thoughts on this post by leaving a comment :-)