New to little Indiana? Subscribe for free to my RSS feed. Thanks for stopping by!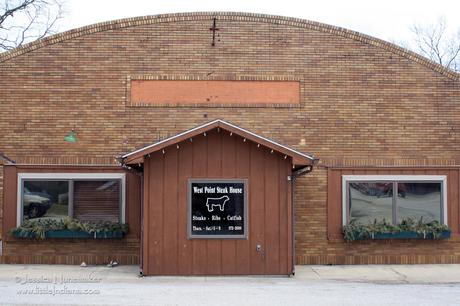 West Point Steakhouse in Westpoint, Indiana
Hubby was told that the folks in West Point Steakhouse in Westpoint, Indiana know their way around a kitchen.
So, like the well-seasoned travelers we are, we packed the kids in the car and took off!
West Point Steakhouse in West Point, Indiana
It wasn't hard to find West Point Steakhouse. There's only one other building in this smaller than small Indiana town!
Hubs walked up to the door and…it was locked. Nooooooo!
We saw that the bar side of things was open, and in true small town fashion, the server said we could go ahead and have a seat in the family dining section even though they don't open that side up until the evening.
West Point Steakhouse Menu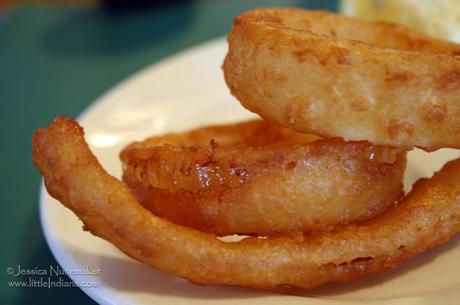 West Point Steakhouse in Westpoint, Indiana Onion Rings
Thank goodness! I was beyond starving. I had accidentally navigated us in the wrong direction and added on an extra 15-20 minutes to our trip. Oops. I am not known for my sense of direction.
We ordered a sampler appetizer to get things  started: Fried Mushrooms, Onion Rings, and Catfish Nuggets complete with lemon wedges and sauces for dipping.
Kid #1 and Kid #2 both wanted hamburgers.
As to the hubs and I? Well, after our server mentioned that they have their own commercial smoker so Hickory Smoked BBQ menu items are done right on-site…our decision became easy.
I decided on the Ham Sandwich while hubs chose the 10 oz. Beef Brisket.
Put a Fork in It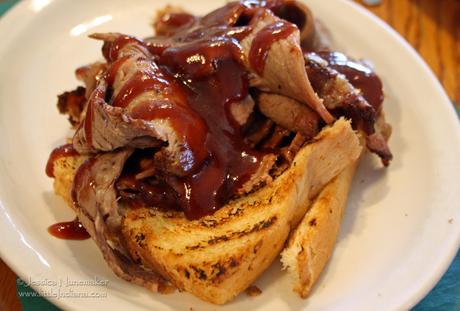 West Point Steakhouse: Westpoint, Indiana Beef Brisket
Our appetizers were great! The Catfish Nuggets? Wow were they good. Both of our boys liked them as well. It was a very good sampler.
As to the main course-what a difference an on-site commercial smoker makes! That was the best Ham Sandwich. Tippecanoe County should count themselves lucky indeed to have such a great restaurant!
Hubs was thrilled with his order. It was piled high with ham on crunchy toast. Did I mention delicious? I may have tried a bite or two.
We saved a good portion of our food because we just couldn't end there. West Point Steakhouse has homemade Bread Pudding.
Go There
But that's a story for another day. Like I've always said, every small town has something. For Westpoint, Indiana? West Point Steakhouse is a very good thing to have!
Subscribe to little Indiana and receive instant updates to stay on top of everything "little." Just don't forget to tell 'em little Indiana sent you!
Find West Point Steakhouse images and other pictures in Indiana on my Flickr photostream.
West Point Steakhouse
4941 Washington Street
Westpoint, Indiana 47992
765.572.2000

View Larger Map
little Indiana: Where to Stay, Play, and Eat in Small Towns in Indiana. Discovering Indiana's best small towns! Now get little Indiana on your Kindle.
Targeted. Relevant. Affordable! little Indiana advertising.