Multi-nominated Ace filmmaker Werner Herzog is up and ready to teach you the art of exquisite film making that he has learned and applied throughout the course of his storied career. Before we get on with the exclusive details about the Werner Herzog Master, let's get to know more about the life and work of the renowned filmmaker.
Knowing Werner Herzog
Werner Herzog is a German film director, known for his works in Hollywood and other German-language films throughout a career spanning nearly three decades. He is a renowned screenwriter, author, actor, and opera director. He has directed more than a dozen operas and published as many books of prose.
Herzog is recognized as a prominent figure of the New German Cinema known to make films that often feature people with unique talents in obscure fields, ambitious protagonists with impossible dreams, or individuals who are in conflict with nature.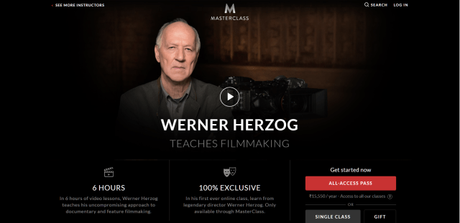 Early life and works
Herzog was born Werner Stipetić on 5 September 1942 in Munich and is of Austrian, Croatian and German descent. He was 12 when he and his family moved back to Munich and he later adopted his father's surname Herzog after he abandoned the family during his early childhood. Herzog stands for "duke" in German, which he thought sounded more impressive for a filmmaker.
With an illustrious career spanning nearly 30 years, Werner made his first film at the age of 19 in 1961. Since then he has produced, written, and directed more than sixty feature- and documentary films like
Aguirre, the Wrath of God (1972)
Nosferatu the Vampyre (1978)
Fitzcarraldo (1982)
Lessons of Darkness (1992)
Little Dieter Needs to Fly (1997)
My Best Friend (1999)
Invincible (2000)
Grizzly Man (2005)
Encounters at the End of the World (2007)
Cave of Forgotten Dreams (2010)
And many more!
Taste of success
Werner Herzog is one of the most critically acclaimed filmmakers of German descent in the modern era. Herzog has been touted as "the most important film director alive" by French filmmaker François Truffaut.
Numerous prolific American film critics like Roger Ebert have also added that "Even his failures are spectacular and till date, he has never created a single film that is compromised, shameful, made for pragmatic reasons, or uninteresting."In 2009, Time magazine named Herzog as one of the world's 100 most influential people.
Herzog and his films have been acclaimed by both critics and audiences alike and have been nominated for and won many awards. His first feature film Signs of Lifewon him his first major award was the Silver Bear Extraordinary Prize of the Jury and got a Golden Bear nomination in 1979 for Nosferatu the Vampyre.
Quick links:
Herzog's most notable award recognition came in 1982 when he won the best director award for Fitzcarraldo at the 1982 Cannes Film Festival. His creation The Enigma of Kaspar Hauser also won the Grand Prix Spécial du Jury in 1975at the Cannes Festival which is also known as the 'Silver Palm'. Other films by Herzog such asWoyzeck (1979) and Where the Green Ants Dream (1984) were also nominated for Golden Palm.

Werner's works have been nominated at many other important festivals around the world, the most notable nominations being:
César Awards (Aguirre, the Wrath of God)
Emmy Awards (Little Dieter Needs to Fly)
European Film Awards (My Best Fiend)
Venice Film Festival (Scream of Stone and The Wild Blue Yonder)
And more!
About Masterclass Platform
Masterclass is an online education platform created in 2015 by Aaron Rasmussen and film editor and director David Rogier in 2015 that allows students and learners from across the globe to connect and learn various forms of arts like Creative Writing, Photography, Directing, Cooking Techniques, Acting, Music and much more from leading creative professionals, entrepreneur, top influencers and award-winning personalities.
From the art industry including Oscar award and Grammy award-winning filmmakers, actors, screenwriters, Multi-billion dollar grossing directors, and many more under one platform. The platform boasts of an elite list of masters like:
**And many more!
Werner Herzog Masterclass
Werner Herzog grew an undying passion towards creative film making in the age of 19 when he stole a camera and made his first movie. More than 30 years later, the legendary director today has 70 films and 50 awards to his credit and actively teaches documentary and feature filmmaking.
In the Werner Herzog Masterclass, you will get to learn the art and technique of storytelling, cinematography, locations, self-financing, documentary interview techniques, that he himself has learned and applied throughout his career and how to bring your ideas to life to convert your ideas and stories into uncompromising films.
Werner Herzog Masterclass is divided into the following 26 lessons.
This is an introductory lesson where your new instructor gives you an insight into how he became a successful self-taught filmmaker who's made films on all seven continents. Get an idea on how to become a 'soldier of cinema',
Teach Yourself Storytelling: Watch Films
Werner helps you deconstruct the opening scene of Viva Zapata, starring Marlon Brando and teaches you the importance of careful film analysis.
Werner insists that doesn't just watch movies if you want to master storytelling. Werner shares passages from his mandatory reading list and explains why reading is key to becoming a great filmmaker.
Werner believes in thinking out of the box and reveals how he draws on poetry and Beethoven. Learn how to work outside the three-act screenwriting structure to inspire scripts that capture his vision in words.
You don't need millions to make a movie that earns you widespread recognition or wins an Oscar. Werner Herzog teaches future aspirants to start the journey toward bringing a project to the screen with $10,000 and an extraordinary idea.
The film is a perfect balance of both art and business, Werner is here to help you learn how to protect your stories he shares his insights and experiences into the industry.
Werner has shot magnificent movies in numerous magnificent locations like Jungles, oceans, and volcanic craters. In this lesson, he teaches you how to find spectacular locations for filming your story and turn them into functional sets for the same.
There is an insane and rather motivating fact that Werner offered to eat real maggots first when Christian Bale had to eat in Rescue Dawn. This is a clear example of the power of leading by example to inspire your cast and crew.
In filmmaking, if you're on time, you're late. Be professional: Organize your set to tell the story, not to impress anyone. Forget the director's chair, turn off your cell phone, and stay close to your actors.
Werner always insists his learning assistants not to shoot coverage, but instead use one camera to make the best film possible. Just keep it simple, focused, and efficient.
Making an amazing film involves great quality cinematography. In this lesson, you will learn how to bring your vision to life with extraordinary images as Werner teaches you how to paint with light, work with cinematographers.
Learn how to maximize your creative visions Werner teaches the basic rules of cinematography.
Working With Actors: Creating the Character
Werner shares both the subtle and bold techniques of casting, wardrobe, and behavioral ticks developing characters with your actors.
Werner breaks down how to work with the best of the best, including Klaus Kinski and how he directs actors on set.
Sound quality is an essential aspect that can make or break your film. Learn from the ace filmmaker, how to avoid lost footage and listen for the remarkable.
Learn how to work with composers to create amazing, memorable scores and how to communicate the mood you want for your music.
Editing begins on the set and Werner is here to share with you his unique methods that will help you to make a beautiful film by giving you a practical way to cut through the footage.
An amazing film tells a great story and that story requires inspiration and it can come from anywhere. Werner states that you have to know how to recognize the perfect inspiration and seek it out. Learn where Werner got the ideas for many of his most famous films.
Warner breaks down the development of scenes in Stroszek and the genesis of Fitzcarraldo to tactfully teach you how amazing stories are often a combination of discoveries.

Documentary: Making the Conversation
Werner discusses how to make your subjects comfortable as he emphasizes his techniques to "crack a human being open" identify with them, and capture their humanity.
Documentary: Eliciting Difficult Stories
Werner teaches here how to get to the heart of your subject and shape your story as he breaks down the need for "knowing the heart of men" and narrative discipline.
Documentary: Dealing with Human Beings
Learn from Werner takes you into an in-depth flashback about his experiences of filming Grizzly Man and Into the Abyss to teach you the lines you should not cross and how to get to the heart of your subject quickly.
Shape the 'ecstatic truth' and ditch the 'fly-on-the-wall' approach to documentary filmmaking to tell a beautiful and brilliant story.
Be one of the ruthless ones who burst onto the scene. Learn how to deal with rejection and take control of your career.
The life of a filmmaker is fraught with doubt, rejection, and constant battles for survival. Learn how to survive in an impossible industry.
Werner leaves you with the words of a medieval mystic and wishes you luck on your journey.
Werner Herzog Masterclass Price
There are two ways by which you can purchase a Masterclass, a single Masterclass and an All-Access Pass for any of the gurus on the platform.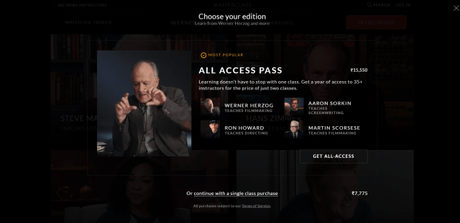 The All- Access Pass comes in real handy when you wish to take more than one Masterclass, so this means that there is no limit on the number of Masterclasses on the All Access Pass.
Also, read:
A 30-day money-back guarantee is also available for any of the Masterclass packages you purchase and you will get a complete refund of the amount in case you are not satisfied with their services.
Mobile apps & Social media
Masterclass has also developed mobile applications for iOS and Android users which they can download for free from the App Store and Play Store and access your Masterclass lessons anywhere.
Now you don't even have to miss a thing from Masterclass as you can follow them anytime anywhere via Facebook, Instagram, Twitter and also watch their videos on YouTube
Final Verdict: Werner Herzog Masterclass
Filmmaking is an art that takes many years to master, and you have to go through a lot of ups and downs to make a perfect film or video. The skill of storytelling comes to very few. This is where this Werner Herzog comes in amazing masterclass videos.
When you have an expert and a professional to learn from, this learning about film making becomes a lot easier as they have their own experience and are ready to share it with you. Werner Herzog masterclass is packed with all the information and techniques you will require to produce a proper storytelling film. If you have that fire and desire in you to make an awesome film, I would surely recommend you to go for this masterclass.