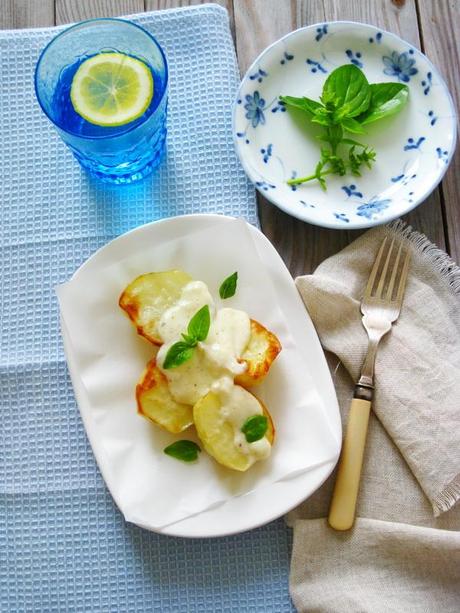 If you have been following this blog for a while then you should know that I really enjoy making simple, quick but well-seasoned food—

the kind of food that wouldn't keep me all day in the kitchen.

  

And this recipe is one of them.
Well what can I say about this recipe?

I can't deny how hearty this is, roasted potatoes with béchamel sauce and basil leaves.
The béchamel sauce is a wonderful –delicious –white sauce that could be made with ingredients found in any pantry.

Milk, cornstarch, parmesan or romano cheese and a touch of fresh ground nutmeg

is all you'd need to make this delicate and versatile sauce. I use it on pasta, cooked fish fillets, scallops and potatoes.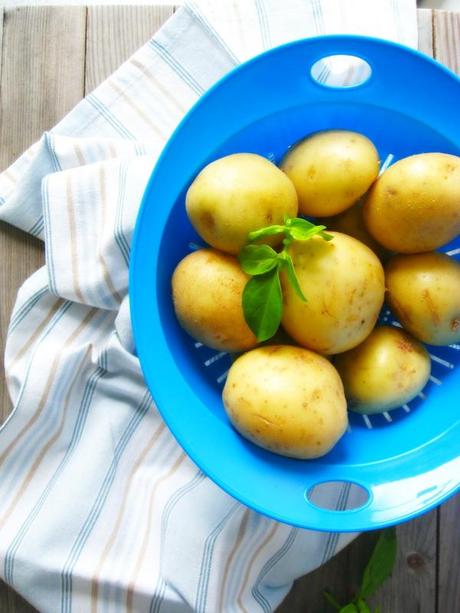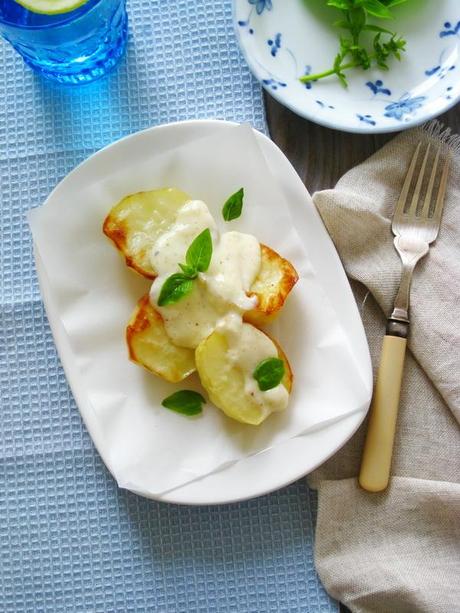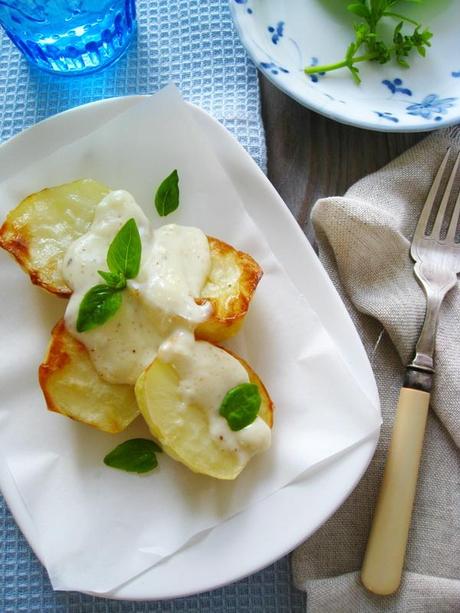 You could also serve this differently, with the béchamel sauce-- sauté brown onions and mushrooms topped with a generous amount of chopped fresh parsley are fabulous alongside this roasted potatoes-- Or instead of sauté veggies – Simply add blue cheese, walnuts and basil leaves,

accompanied by warm bread and a fresh green salad.
I cooked this on Monday as part of our dinner. J. is a fan of potatoes and he loves them even more when they are roasted. So you can just imagine what hubby was thinking when I said I made roast potatoes! Yes, he was more than happy... with a kind of expression that I called;

''His Happy Birthday face'':)
Roasted Potatoes with Béchamel Sauce and Fresh basil Leaves
8 Medium potatoes, cleaned and peeled 
Olive oil
Sea Salt, to taste
4 Garlic cloves
Béchamel
sauce *Recipe
Fresh basil Leaves
Preparation:
Preheat oven to 200 C/ 390 F. In a baking tray add potatoes and garlic cloves then drizzle with olive oil and sprinkle with sea salt. Place in the oven for 40-45 minutes. Serve warm and pour over the top the warm béchamel
sauce. Garnish with fresh basil leaves.