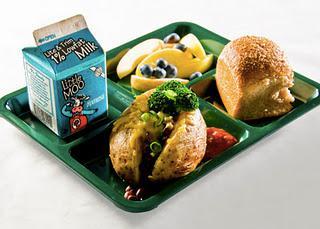 Last week Sarah Wu revealed that, as Mrs. Q, she had documented a year of unappealing meals in her Chicago school classroom. Looking at the photos, I understand why she was fed up and, in fact, I agree with many of the action steps suggested in her book.
The problem is that Mrs. Q's view of school lunch was a narrow snapshot in one school.The good news is that her book does not in any way represent the revolutionary changes that are leading what I like to call the Health-ification of School Lunch. This good news is showcased every day in the entries on School Meals That Rock.
I urge Mrs. Q and anyone concerned about food at school to visit districts of excellence taste the difference where the food meets the tray. Here are five key facts and outstanding schools where children are well fed every day:

1.There has been a REAL revolution in serving FRESH food in schools. Scratch cooking and local foods are two of the most important trends in school meals today. Many schools make their own pizza crust and at least one Missouri school even makes fresh mozzarella cheese! Even in large district's central kitchens, they're baking whole grain rolls and using local produce. Check out the beautiful trays and trends from dietitian Lisa Wiedner and the staff at Cypress-Fairbanks ISD outside of Houston (TX) on their website and Facebook page.
2.Over 1,500 schools have met the HealthierUS School Challenge As one example, thanks to dedicated school nutrition professionals and leadership from the Office of Healthy Schools, dozens of Mississippi schools have won HUSSC awards, including 11 schools in Lamar County. Purvis High School received the first Gold with Distinction in the nation. In a state that gets a 'bad rap' for nutrition in general, leaders like Lamar County Child Nutrition Director Becke Bounds have stepped up to the 'tray' to make a real difference in children's lives.
3.School nutrition programs serve amazing meals on minimal budgets. In the multi-cultural, high-risk, urban environment of Portland (OR) Public Schools, director Gitta Grether-Sweeney, MS, RD, and a staff of registered dietitians and public health professionals have created an outstanding Nutrition Services Department. Their amazing Harvest of the Month and Local Flavors programs are done with the 2011-12 USDA Reimbursements Rates of $1.51-1.80 for school breakfast and $2.77-2.94 for school lunch. When discussing school meals, it's critical to remember that USDA reimbursement rates must cover both food and labor costs.
4.Food safety is job #1 in school kitchens everywhere. With heightened concerns about food safety (including in brown bag lunches from home), parents should know that school cafeterias are some of the safest and cleanest places to eat in American. In order to get USDA reimbursement for meals, schools must follow stringent requirements and develop extensive food safety plans. The recent ratings of the schools in Rutherford County (NC) Child Nutrition Programs are a perfect example, with all schools receiving an A rating with scores of 98.5% or above.
5. Supporting your local school cafeteria helps continue improvements. School nutrition programs do best when lots of students and staff enjoy their meals. If you want your school to serve more local foods, do more scratch cooking, and offer nutrition education, get involved in a proactive and positive way by reading Tips for Working with School Programs