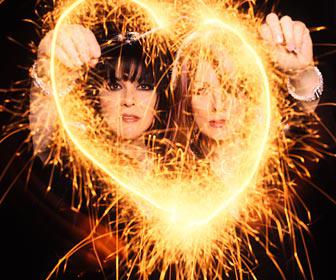 Well according to E Online and Heart's official website, the Wilson sisters have been announced as nominees for the Rock & Roll Hall of Fame! The Wild Heart really hopes that they get in because they truly deserve it.
Anyways, here is my post that sort of chided the Rock & Roll Hall of Fame for excluding the Wilson sisters earlier this year.
Every single year, the Rock & Roll Hall of Fame releases its list of inductees. Every single year one band keeps getting snubbed. That band is Heart.
The Wild Heart thinks the Rock & Roll Hall of Fame is making a terrible mistake by not including the Wilson sisters.
Two of the make-or-break qualifications to get into the Rock & Roll Hall of Fame are that you must be very influential and your 1st album must have been released 25 years ago.
Dreamboat Annie was released in 1976. That was over 30 years ago!
Without Heart, you would not have the Seattle music scene. No Nirvana, Alice In Chains – whose late lead vocalist Layne Staley even recorded a cover duet of Bob Dylan's Ring Them Bells for Heart's 1993 album Desire Walks On. Members of Alice In Chains, Pearl Jam, Soundgarden and others have cited Ann and Nancy as influences on their music. Other current great artists such as Carrie Underwood, Wynonna Judd, and Gretchen Wilson have all cited Heart as influences. Some of these artists have recorded at their Bad Animals studio in Seattle, WA.
Heart was the first hard-rock female act. Many female acts have followed in their footsteps including Pat Benatar, Patti Smyth (of Scandal), Avril Lavigne and pretty much any other woman that has picked up a guitar since 1976. Rock music is no longer a boys club no thanks to them.
Lastly, they have enduring popularity. Since reuniting in the early 2000′s, they have sold rather well in both their albums and tours. Not many musicians with an absence like theirs from both radio and touring can say that they are successful after a long break like what they went through.