If you know me well, you know that I love Amy Grant. Through the years, I have taken some flack about this, but as I always say "screw you" if you insult my tastes in music and film. To me, she is what every christian artist should aspire to: gaining mainstream attention without compromising yourself. Among some conservative christian circles, she's also rather controversial because she not only went mainstream but also got a divorce from fellow christian artist, Gary Chapman, and married country artist Vince Gill.
Well, I am here to say that it has happened once again: Amy Grant came to town, this time as a surprise guest at the KSBJ 30th anniversary concert, and I missed it. The last time I saw her was n 2008 when she came on her Lead Me On 20th Anniversary tour. Since then, she seems to skip Houston unless its some fancy gala with tickets at $300 a head.
This is the 2nd time I have given up meeting her. The first time has a good story behind it: I was slated to cover her show for UH newspaper, The Daily Cougar and I had balcony seats for me and 2 friends – one of which was going to her first show ever in the US. (she is from Hong Kong) Anyways, so I had to give up my tickets because they [her management] gave us approval with only a weeks notice and I had already gotten tickets. So I gave my floor seats to my dad and we enjoy the show tremendously.
It wasn't until 3 days after that we discovered a slip of paper inside the ticket envelope saying "come meet the band after the show." In essence, I gave up my dream of meeting one of the greatest christian artists of all time. In the words of Absolutely Fabulous's Patsy Stone I thought "I'm not happy!"
Then there was this time. They had tickets available where you could meet the artists, but did I buy them? No. Did I even go to said concert? No. Did she any of my record copies of her self-titled debut album (recorded at the mere age of 17), Father's Eyes, Age to Age or Unguarded? No.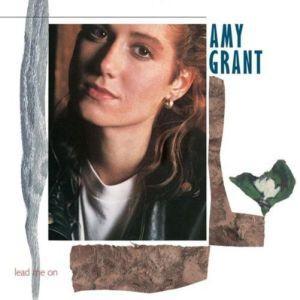 Lead Me On (Amy Grant album) (Photo credit: Wikipedia)
Oh well.