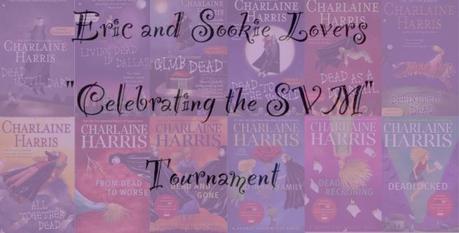 We here at Eric and Sookie Lover's have been "Celebrating the SVM" as we count down till May 7 th and the release of the final Sookie Stackhouse Novel published by Charlaine Harris, Dead Ever After. We have been "raising the dead" with our reminiscing over each book. I am discovering the ins and outs of my kitchen as I cook my way through the Sookie Stackhouse Companion. It has been a learning experience for sure, and I hope just as entertaining.
We decided we wanted to up our celebration scale a few notches
As a part of our "Celebrating the SVM" series, we are pleased to announce the Celebrating the SVM Book Moment Tournament!
Our tournament is in the spirit of "March Madness" but with an Eric and Sookie twist. For instead of "teams" battling it out on a basketball court, we will be having Eric and Sookie moments go head-to-head against each other till we can crown our winner. There were so many Eric and Sookie moments we wanted to include in our "little" tournament… we expanded our field from the usual 64.
128 moments to be exact.
These Eric and Sookie moments span all 12 books and were all scored by the ESL staff (and a few close ESL friends) to help determine rank/seeding in our tournament bracket. Trust me, it was not an easy task

With our newly bracketed moments, we are ready for you to make your predictions on which one will take our top spot.
Interested to play along? More importantly… are you interested to find out what you are playing for?

We are giving away 2 copies of Deadlocked…. SIGNED by the Maker herself, Charlaine Harris!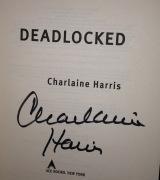 Excited? We are

With 2 signed editions, we have 2 ways you can win.
We will be giving 1 copy to the winner of our tournament (bracket instructions below).
For the second copy, we will be holding a drawing. To enter, you will need to completely fill out a bracket. To increase your chances of winning, your name will be added into the bowl for every quote/moment you correctly listed as the winner.
Sounds simple, right?
The Brackets:
Our 128 Eric and Sookie moments have been ranked and seeded into 4 separate brackets (A, B, C, D). In Round 1, you will choose which of the quotes you think will win its poll. You will then using these choices in the next head to head match up… and so forth.  There will be 7 rounds in total (Round 1, Top 64, Top 32, Sweet 16, Elite 8, Final 4, The Championship). The polls for each round will be open for 5 days, and the next round will be open for voting within 48 hours.
Lets see which Eric and Sookie moment has made our brackets! Click the thumbnail (or PDF link) to view.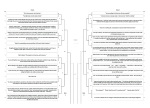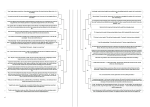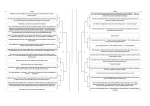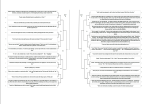 ESL Celebrate SVM Quote Tourney Bracket
How to submit your bracket?
After you have printed your 4 page tournament bracket and planned your way to victory, I bet you are asking yourself "How do I submit my entry?"
Normally in a March Madness competition, you would write your choices on your bracket and turn a copy in to your organizer. This method does not work in our tournament due to the size of our quotes.
To make things easier here, we have created 5 forms (1 for each bracket and final 4/Championship rounds) which corresponds to the bracket.
Bracket A 
Bracket B
Bracket C
Bracket D
Final 4/Championship Rounds
On the forms, you will make your selections via the drop downs for each poll. I recommend referring to your bracket to make sure you are selecting the correct quote.
I am asking you to add your full name and email address to each form. This is so I am able to merge all of your responses into 1 form to track. Do not worry, your personal information will not be shared

To take part in our tournament, you will be able to submit your forms through the END of Round 1 (which will start January 1 and end January 5th ).
If you have any questions on how to complete your form or how to fill out your brackets, please feel free to contact me at [email protected]