Today we welcome and introduce you to Skye Rogers as our guest DIY blogger.  Skye is the designer and owner of a small, boutique greeting card and stationery business, based in Sydney, Australia, called 'Skye's the Limit'. Through it she indulges her love of making and drawing things that will end up on paper, her favourite medium. Skye's styles are as diverse as the thoughts that flit through her mind – many retailers have wondered out loud if the 'same artist does all those designs'. And yes, it is true. One woman: 100 styles.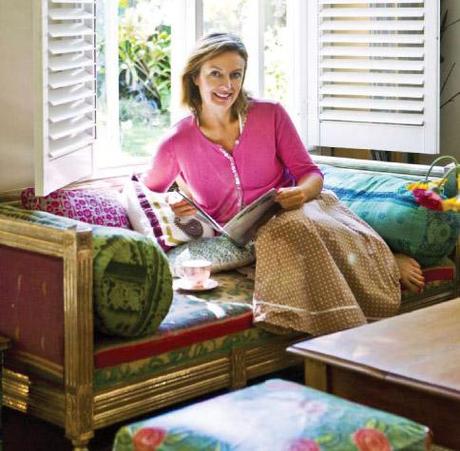 Image via Maree Homer, House and Garden Magazine
Skye started out as an illustrator in the 1980's, after securing her first illustration job in London. So excited, so 'green' was she that she didn't even send in an invoice for the work – a washy watercolour of Marbella. Somehow, she imagined the 70-odd Quid would magically arrive. It didn't. That she has ended up running her own business was a big surprise to just about everybody.
It is not so much testament to Skye's business skills, then, that Skye's the Limit flourishes. Skye's desire was to keep on creating, no matter what.
Skye is also a writer of several non-fiction titles that are quite unrelated to paper and its' potential – though these books are, of course, printed on paper! As with her illustration and design sensibilities, Skye is best described as 'peripatetic', moving naturally between one thing that interests her and onto another, apparently unrelated field. The connections are the passions that drive her: to create just a tiny, beautiful bit of the world for herself and others to live in, however fleetingly. We hope you enjoy a little bit of that slightly upside-down world.
A word from Skye …
I have coveted paper since I can remember. Through drawing and writing on it and trying to make things out of it, paper and I have had a long and intense friendship.

I loved that my mother didn't need to go buy it for me – I could sneak the 'good stuff' out of my parent's home office without too much of a problem…and anyway, the best thing about it was its ubiquity – the scrap paper I found about the house, the neighbourhood or at school was never missed and soon became transformed: paper aeroplanes and doll's dresses later gave way (in scripture class) to elaborately decorative drawings of Jesus– all the Apostles lined up on the pale blue vertical lines of my scripture book like so many bowing pins. (Drawing and making things already seemed a decent alternative to religious instruction!)

Paper has always allowed me to express myself. In a world that I often found bewildering ('paper tigers' everywhere!) if I had some paper and better still, an implement with which to mark it, then I was OK. Everything I needed was contained in these two very utilitarian objects. Paper, and the creative outpouring it fostered, became something of a safety net for me: a repository, a medium, for all the things that otherwise threatened to overwhelm my tiny mind.

image - a work in progress of Skye's upcoming book
"Paper Bliss"

It's funny isn't it that those things which so resonate with us in childhood can continue to hold us under their spell. We seek them out over and over throughout our lives. And so it is that my paper love affair has continued.

Here I find myself , a woman of a certain age(!), delighted to be able to spend so much time with my dear old friend: paper is still in every nook and cranny of my life. I now get paid to design on it and for it, and I get silly-excited about choosing paper stocks for my greeting card ranges. I still scribble and draw and doodle and write on it and would do so whether or not there was a monetary reward. I love to scrunch it and sniff it and cut it up and stick it down and fold it up and tear it, just like I did when I was a kid (and I still send the odd paper aeroplane across the room). I can't think of a better way to spend one's working life: in thrall to a most humble material, one that trumps all modern attempts at replacing or transcending it.

image - a work in progress of Skye's upcoming book
"Paper Bliss"

It is still the genuine, good, article it always was and (hopefully) always will be – there it lies in front of us, pure and blank, just waiting for us to start. I couldn't think of a better friend to help me wrestle those paper tigers.
_________________________________
HOW TO RECYCLED ENVELOPE NECKLACE
By Skye Rogers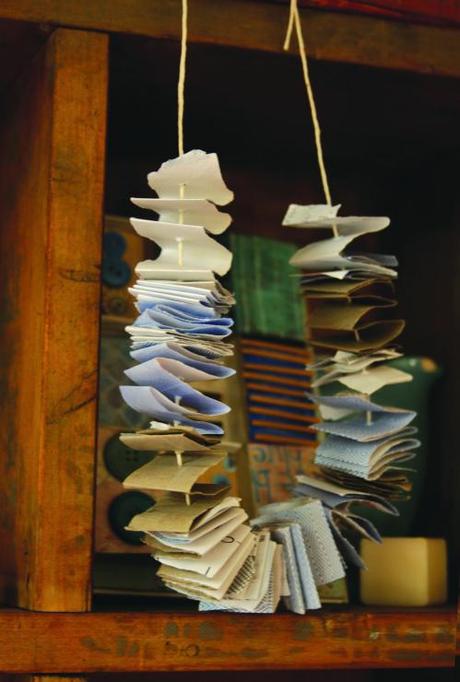 finished product
This is a great use for the mail that comes through your door each day! I call these 'contemporary temporary jewellery'. They won't last forever, of course, but even the scrunching and bumping of wear and tear makes them more interesting. And you can make them out of different papers for different occasions or to match various outfits. If giving as a gift, they look great if presented in a box with some more of the same paper shredded in lengths inside.
You will need | Random pieces of used envelopes, metal ruler,
smooth string or thread, thick embroidery needle (optional),
metal skewer and a block of old wood
Method
1. Start by removing all the 'glassine' windows in your envelopes. Using the metal ruler, rip your envelopes into even-widthed strips lengthways.
2. Concertina the lengths by folding every 3cm approx. Keeping the concertina closed, firmly hold each of these strips down on the piece of old wood and using the metal skewer, punch a small hole through the centre of the pieces. You may wish to experiment with having the patterned or plainer side showing each time (although when they're on the string you will be able to see both sides really).
3. Feed your string or thread through the hole. I used just the end of the string and eased it through, but if you're having difficulty, you might want to use a blunt embroidery needle to help you.
4. Repeat the process, gathering up your sections, punching a hole and threading them until you have enough paper threaded for a necklace.
5. Loosely tie a bow or knot to fasten.
Ideas
1. If you really want to be irreverent, use old bills and/or bank statements. If it's over seven years old, you could even use your tax return.
2. You can also use more formal methods with your paper, of course. Try folding lengths of paper in various ways or making concertinas of white paper and threading string through these, perhaps adding a few fringed pieces too. They can end up looking quite delicate and lovely.
3. Make an unusual bracelet. Just keep threading pieces of paper until you have enough for a bracelet, then tie the ends together with a small knot. The knot will remain hidden under the froth of paper.
Visit Skye's the Limit online
Enjoy