It's a weird world.Publishing, I mean.In the early days of shock and angst after Nashotah House, when it had become clear that UWOsh—the University of Wisconsin, Oshkosh—wasn't going to hire me full-time after a full-time year there, I considered that classic fall-back of the academic—publishing.I wasn't exactly clear on what an editor did in those days, but I was pretty sure I could learn.Gorgias Press hired me and after just over two years, downsized.I'd been in publishing long enough at that point to have learned about Transaction Publishers.Housed on the Livingston campus of Rutgers University, where I'd been teaching for a few years at this point, Transaction had been founded by the sociologist Irving Horowitz.Now that Gorgias was out of the picture, I contacted Transaction out of the blue and landed an interview with Horowitz himself.Although he was most cordial, it didn't lead to a job offer.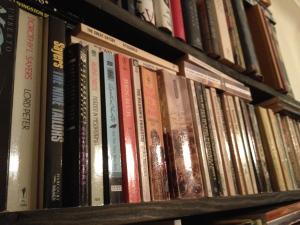 Eventually I was recruited by Routledge.I was about to learn the nature of publishing in a whole new way.Early in my time in the Taylor & Francis group (they had a letter signed by Walt Whitman in one of the board rooms) I learned that presses grow by acquiring other presses.I suggested Transaction, only to be told it was too small of a "concern;" Taylor & Francis preferred larger fish.When Routledge downsized I found myself again applying to Transaction.Irving Horowitz had passed away by this point and before I could make an appeal, I was hired by my current employer.There I have been ever since.
The other day I had cause to look up Transaction.It was with some surprise that I learned they had been acquired by Taylor & Francis and merged with Routledge.I'm sure that my suggestion of that acquisition had nothing to do with it, but I pondered what would've happened had I been hired by Transaction after Routledge cut me loose.A few years later I would've found myself working for Routledge again.And likely I would have found history repeating itself.Publishing is a fairly small industry.Books are a low-margin commodity (it pains me to type those words, but that's the way the business world sees them).Not too many people are interested in a company that has to sell lots of a specialty item in order to make them profitable.Consumers tend not to buy books in bulk.My time in publishing has been about connections.And some of those connections are just plain weird.