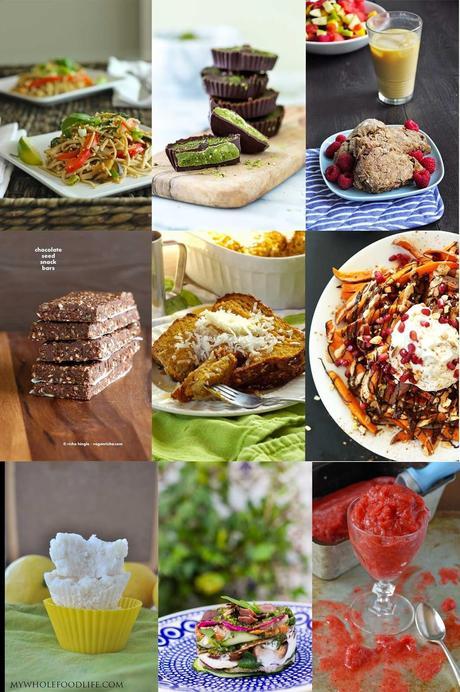 Ok first things first I need to acknowledge that I have more recipes than normal and I had to be quite strict to bring it down to just 9. Also I did not realize until I was putting it all together that they are virtually all sweet recipes which shows the frame of mind I am in at the moment, but to be honest, don't they look lovely. They are detailed starting at the top left hand corner, working to the right and then back again in a zig zag:
Spicy Thai Peanut Soba Noodles and Veggies by Fresh Direction - I just had to put this in there for a number of reasons, the first being I have developed a peanut obsession lately and this helps with that plus I love spicy Thai food.
Chocolate Matcha Butter Cups from Keepin' it Kind - These are my idea of heaven a sweet snack that is actually really good for you.
These Raspberry Chocolate Almond Scones from Vegan Family Recipes look like a really tasty treat and certainly as you would expect one the whole family would enjoy. I think I will give these a go with some coconut cream and raspberry jam.
The Minimalist Baker has done it again with these Superfood Sweet Potato Dessert Fries although they look like they could be very filling so probably best to save for when you really want to pig out!
I know that this recipe from Connoisseurus Veg is called Vegan Mango Baked French Toast but to me this is basically a bread pudding recipe and you could have it for breakfast but it would make an amazing dessert.
Super Seed Chocolate Protein Bars from Vegan Richa are the ultimate snack. They only contain good stuff are quick and easy to make and for me they would be the perfect pick me up after a gym session.
Lemony Coconut Fudge from My Whole Food Life - I recently discovered this blog and I am really glad that I did because the recipes are all amazing looking and this is no exception plus it uses just 4 ingredients and is easy to make.
Raw Vegetable Milhojas from Can Caramelo - this is a truly healthy dish that looks amazingly tasty and not too complicated either. It is definitely something I will be making as the weather warms up a bit.
I have been seeing a lot of sorbet recipes around at the moment and this No-Churn Strawberry Basil Sorbet from The Frosted Vegan is probably my favourite, well worth a try!
So we have looked at a wonderful list of recipes and I suppose I should tell you a bit about my week and other bits from around the web.
Firstly a bit of a boring one but I have recently signed up for an account with Trello so that I can start to plan my posts and my live a bit more. I will keep you posted as how it goes.
Katie from Produce on Parade and Chris from Tales of a Kitchen both had birthdays this week and produced amazing cakes to celebrate them with, perfect if you are planning a big day.
I have started looking for a job which is proving harder than I thought. I have been working for myself for so long that it feels strange writing a CV and applying for jobs but this is another thing I will keep you updated on.