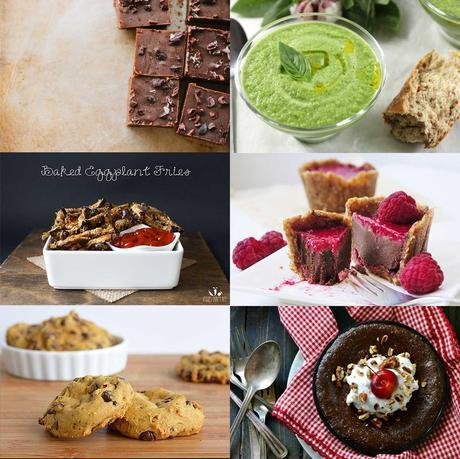 I think that Fridays are quickly becoming my favorite day of the week, not for the obvious reason but because I get to write this roundup. It does take up most of my day going through my favorite recipes and posts to select what to include but it gives me so much inspiration. So it helps me come up with great ideas for my blog but it also means that if I am having guests or just don't know what to cook I have an amazing selection of favorite recipes to choose from. Last week I made a couple of the recipes on my roundup to take to my yoga teacher training and I have to say they were very popular and in fact I actually passed them on to others on the course.
So as usual I will start with the recipes that are pictured above and this week I am starting at the top left hand corner and will zigzag through them, it should be obvious hopefully:
Raw Chocolate Fudge with Cacao Nibs and Sea Salt from My Darling Lemon Thyme was on my weekly roundup the second I saw it. Not only does it look and sound amazing but it is so easy to make and I am certain it tastes amazing. I will have to do a batch of this to keep in the freezer.
With the weather as hot as it is in London at the moment we all want to eat things that will cool us down and I am sure this Basil Cucumber Gazpacho from Amouse Your Bouche will do the trick and just think how quick it will be to prepare.
Just about every recipe from Vegan Family Recipes gets added to my favourites list and these Mini Raspberry Chocolate Cakes are no exception. It is my mum's birthday next week and I know she would love these so I might be busy!
Since I got healthy and started trying to eat a low GL diet I hardly every eat chips(fries to those of you in the US), apart from when I have had one too many glasses of wine, but we won't tell anyone about that, and so these Oven Baked Eggplant Fries could be the perfect alternative for when I get the craving, they are healthy and low GL.
I get so many cookie recipes each week and even though I like them they seem to hardly ever make it to my roundup but these Pumpkin Chocolate Chip Cookies from The Veg Life were just a bit different and something I would really like to try, so here they are!
Fork and Beans is a really excellent blog and Cara is always producing recipes that are simple to make but packed full of flavor and innovation. This week I am including her Raw Vegan "Skillet" Brownies because they are perfect for this time of year, who wants to cook and well have you seen the picture they look amazing.
I actually have a lot of other posts that I came across this week that I think are interesting, be it recipe roundups or other interesting bits so I will share them with you and at the same time try and tell you something about my life that is not too boring:
The first thing I want to share with you is The Wild Spirit Retreat in California which has been set up by Beth the brains behind Tasty Yummies blog. It sounds amazing and I would love to go but I think going to California for 4 days my be a bit much for me but you never know there is still time to decide.
A bit about me, a couple of weeks ago I told you about a flood that we had that caused the ceiling to come down, well as you would expect only part of the ceiling in the room came down and so we needed to bring the rest down. I could have waited for someone to do it but we thought, we can do it. We did but I would recommend to anyone to never try it, there was more dust up there then I thought was humanly possible and it was one of the most exhausting things I have ever done. Next time I will get an expert!
There were a couple of posts on Henry Happened this week that I thought were quite useful and worth sharing with you. The first one is How to Make a Weeks Worth of Green Smoothies and the other one is a collection of 13 Recipes Packed with Probiotics and who doesn't need more probiotics.
My post yesterday used Tarragon and I talked about how it was quite an underused herb and then when I was going through the recipes for this post I came across this Tarragon and Mint Ice Cream from Golubka Kitchen which I know is not vegan which is why I didn't put it in the main list but it is a really interesting use of tarragon, I think I will need to try and make a vegan version of it to share with you.
If you are stuck for ideas of what to take to work for lunch then this collection of 20 Portable Meals from Olives for Dinner is sure to give you some inspiration.
I read an interesting article on The Vedge about Parasites and the Symptoms They Causes the posts contains lots of useful information and ways that you can help yourself as well as a parasite killer smoothie.
Finally I wanted to bring out a collection of 18 Vegan Toasts from Happy Healthy Life, there are some seriously tasty ones there and they are so quick and easy to make why not try them all!
Just to let you know I can now starting taking yoga classes so if you know anyone that wants one-to-one sessions send them my way. I will do more of an announcement when I have a website and everything set up. It does mean that I might start doing some more yoga posts or I could split the yoga and the recipes, it would be great to know what you think.
Here's to a lovely week for all of us! x