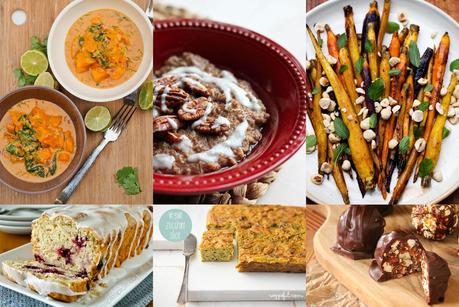 All of the beautiful recipes pictured above are detailed below starting at the top left hand corner and working in a clockwise direction:
The first recipe is a stunning Butternut Squash and Spinach Coconut Curry from Avocado Pesto. I absolutely love Thai food and this looks like the perfect curry for the cold evenings.
If you are looking for a different breakfast then why not give this Cinnamon Roll Spice Oatmeal from The Vegan 8 a try, it is sure to satisfy and keep you going until lunch.
I adore these Maple Glazed Carrots with Cinnamon, Cumin, Hazelnuts & Mint from Yummy Supper. Roasted carrots are amazing and these look like are talking that to the next level and I can't wait to try them.
My next recipe is a bit of a naughty treat but a really yummy one though. Who would not love these Vegan Mars Bars Popcorn Truffles from My Darling Vegan. They are top of my list when I next have a sweet craving.
This Vegan Zucchini & Kale Slice from Veggieful is a great way to your greens and is sure to go down a treat with the whole family. Definitely one I will be making for myself.
Finally I am finishing with the perfect thing for afternoon tea. I just love this Blackberry & Apple Almond Loaf Cake from Maple & Spice, it is packed full of autumn flavours and just lovely.
Firstly I suppose I need to apologize for the fact that this post is going out a bit late, my life has been so hectic lately that I am amazed I managed to do as much as I have. Friday I just had lots of things to do, prepared most of the post but got completely distracted and I was celebrating at the weekend so here we are today!
I have put below some of my favorite blog posts from the week:
The first thing I want to share with you is actually two articles that I have read on turmeric. As someone who loves curry I find I eat a lot of turmeric and am aware that there are health benefits but it is nice to get reminders. The first one details its Carcinogen Blocking Effects and the other one gives info on How it Strengthens Your Brain.
I really enjoyed reading A Buddhist Monk's Advice on Overcoming Tech Addiction it is a different was to look at technology.
This article that details Five Common Meditation Myths Debunked and is a great read and the perfect thing to share with someone new to meditation.
Finally I am finishing with my usual uplifting post from Tiny Buddha. There are so many great posts on this blog and I could share many of them but this one is about Creating Lasting Happiness and Filling the Void Within.