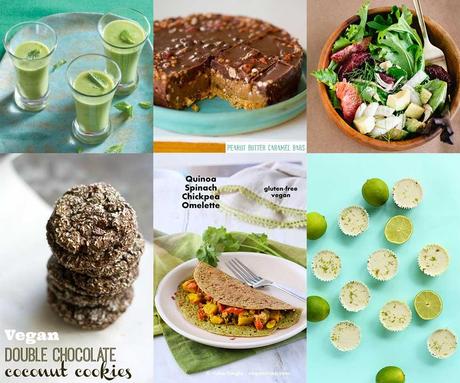 I have to be honest I am writing this post with a bit of a struggle today, for some reason I woke up at 1.30am today and just could not get back to sleep, I gave up at about 4 and proceeded to finish the book I was reading. The result is I am feeling a bit sluggish today and just about managing to think so hopefully this all makes sense.
I have selected my favorite recipes from this week again and they are pictured above and detailed clockwise from the top left hand corner:

In terms of the week I don't really have a lot to tell as many of the things I am working on I want to save until I have them more formulated. The most interesting thing that happened this week was the early arrival of the Oh She Glows cookbook. I will get round to doing a proper review soon but I have already made one of the recipes in it and it was easy and very tasty. I can tell it is going to be a very popular book.