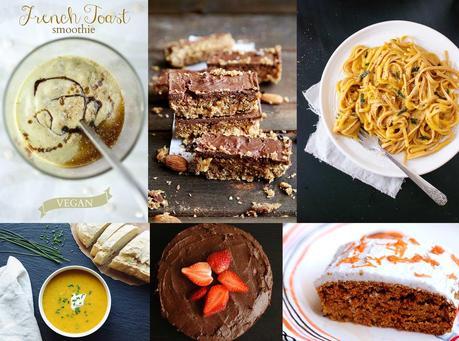 I have selected my 6 favorite recipes that have been delivered to my inbox this week. They are pictured above and detailed below starting at the top left hand corner and working clockwise:
French Toast Smoothie by Produce on Parade - it takes a certain kind of mind to come up with something like this and I am so glad about that because this looks really amazing.
Almond Bars with Chocolate Topping by Divine Healthy Food - I love this blog so much and the recipes always look great. This has given me loads of inspiration on things for my blog.
Creamy Vegan Butternut Squash Linguine with Fried Sage by Cookie & Kate - it is great fun reading this blog, finding out all about cookie plus the recipes are pretty amazing too!
Vegan Spelt Carrot Cake with Coconut Cream Frosting by Divine Healthy Food - I am not going to apologize for having 2 recipes from 1 blog because as I have already said, I love it and I love carrot cake too! 
Raw Brownie Cake with Chocolate Avocado Frosting by The Taste Spice - I am normally not a fan of raw food because there are too many dates and they have a very high GL. There are a few in this but only in the frosting and they could be replaced easily.
Zucchini & Sweet Potato Vichyssoise by The Simple Veganista - You might have guessed that I am a big fan of soups and this just looks so tasty.
Some of the other things that have made an impression on me this week are:
There was a great post on Keeping It Kind this week called Top 10 Ways to Make Your Vegan Cooking the Best! It is a great resource for anyone starting out with vegan cooking.
We did some intense side stretches in yoga on Tuesday and I think I discovered muscles that I never knew I had, at least it is doing me good.
I have been feeling extremely happy this week, I am not really sure why but I feel like I have been taking happy pills or something!
One of the things that made me smile this week was Andrew at One Ingredient Chef talking about his obsession with chocolate and peanut butter. A great way to brighten the day!
I came across the concept of a Worldwide vegan bake sale and I think I will take part in it, I just need to decide on the charity and where I will hold it.
There was an interesting article on Nutrition Stripped about water. It talks about the benefits of water and although I agree with most of it there is no attention paid to drinking too much water which is a bit of a thing for me at the moment, check out my article here.