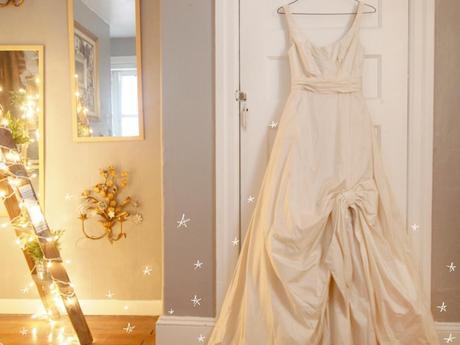 I bought my second wedding dress. Never mind the fact I don't have a fiance or an aisle to walk down, I have two dresses. One one but two (I bought a wedding dress at an auction last year). I like to be prepared, for all occasions and possible situations. You never know when you're going to have a Britney Spears moment and need to get married immediately.  If she was prepared like I am, she probably would have looked half decent during her Vegas nuptials. So, if the time ever arises when a Jason Alexander type fellow (one who is not going bald) swoops me off my feet, I will have two choices of attire. The only details that would need to be decided would be shoe selection. Kate Spade kitten heels, Frye boots, or Manolo's? What would you do?
Jokes aside, I'm not crazy. The dress is from BHLDN and came up for sale at an auction recently. Seeing the size 0 label, my first thought was "Prop!" Can you imagine a photo shoot involving me-made lingerie, flower crowns, bare feet, a garden, glitter, balloons, and this dress? I can.
So please don't Baker Act me. I was preparing for a future photo shoot and not a non existent wedding when I made this purchase (or was I?).