Changes

Due to various factors, I did not post any book reviews last week.  This week should see:
Monthly Summary
The Short, Sharp Shock by Kim Stanley Robinson (review)
Worlds of Wonder by Michael Whelan (review)
Short Story Sunday will have one review and an overview of the series it belongs to.
My New Review Blog
In addition to my reviews of individual comics at Comics!  A Personal Journal I am starting to review comic book trade paperbacks and graphic novels at Comic Book Shelf Reviews.  With the increase in the collected editions and original graphic novels, I decided to create a new blog for the reviews. 
If you are a fan or are just interested in learning more, stop over.  I will post updates on the "Weekend Update" column each week.
Around the Internet
Comic review (from Comics!  A Personal Journal) this week is:
Avengers Academy #8 
New Additions to My Library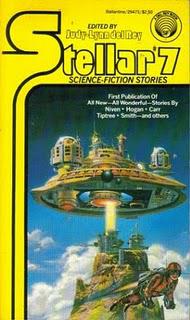 Stellar #7 edited by Judy-Lynn Del Rey
The last volume in one of the "classic sf" anthology series.  Number 7 includes stories by James P. Hogan, Terry Carr, James Tiptree Jr., Larry Niven, L. Neil Smith, and others.
The cover for this collection is by David B. Mattingly.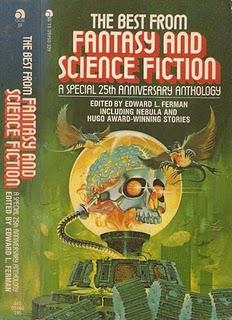 The Best from Fantasy and Science Fiction 25th Anniversary edited by Ed Ferman
Ed Ferman assembled the stories commissioned for F&SF's famous one-author issues.  In addition to the stories is a bibliography and a biography written by another famous writer.  Featured authors are Theodore Sturgeon, Ray Bradbury, Isaac Asimov, James Blish, Poul Anderson, and Fritz Leiber.  
Look for the Paul Alexander cover.  I would love to find a print of this pulp style art.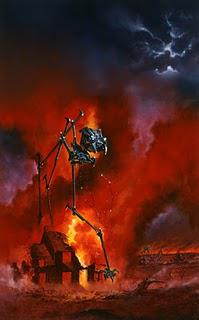 H. G. Wells Classic Edition
A collection that contains The Time Machine, The Island of Doctor Moreau, The War of the Worlds, The First Men in the Moon, and The Invisible Man.
Something that makes this collection unique is the illustrations by Les Edwards.  Not only are the stories interesting but the art adds to the experience.  I know Carl at Stainless Steel Droppings will be looking for this edition (if he doesn't already have it).
Galaxy Science Fiction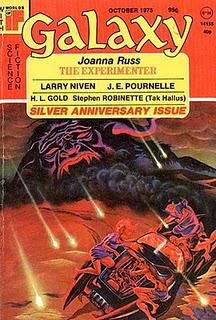 October 1975
Jim Baen was one of my favorite editors of Galaxy.  This issue has stories by Joanna Russ, Larry Niven & Jerry Pournelle (part 3 of Inferno), and David Drake (a Hammer's Slammers story).  As always, Spider Robinson was entertaining with his reviews and Richard Geis with the Alien Viewpoint.  The cover is by Richard and Wendy Pini.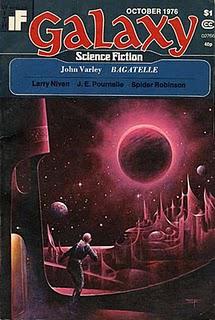 October 1976
Another Baen classic.  This one contains Larry Niven (part 2 of Children of the State), John Varley, Steven Utley, and others.  Nonfiction by Spider Robinson, Richard Geis, and Jerry Pournelle.  Stephen Fabian turned in another stunning cover.  Other interior illustrations are by Jack Gaughan, Vincent DiFate, and Rick Sternbach.
Worlds of IF
March 1962
An issue from the Fred Pohl era.  Stories in this one were written by Poul Anderson, Keith Laumer, R. A. Lafferty, and others.
August 1974
A Baen issue with a star studded lineup.  Authors include Fritz Leiber, Bob Shaw, Isaac Asimov, Fred Saberhagen, Raccoona Sheldon, and Larry Niven.


December 1974

The last Baen issue.  The main story in this issue is the second half of Poul Anderson's "A Knight of Ghosts and Shadows".




Analog

April 1969

A John W. Campbell issue with the first part of "The Five Way Secret Agent" by Mack Reynolds.




May 1970

Another Campbell issue.  The names that are familiar to me are James H. Schmitz, John Dalmas, and Lee Killough.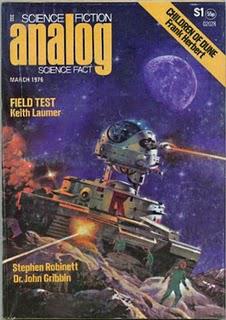 March 1976
This is from Ben Bova's tenure as editor in chief.  Two stories stand out in this one.  "Field Test"-a Bolo story by Keith Laumer and part three of "Children of Dune" by Frank Herbert.