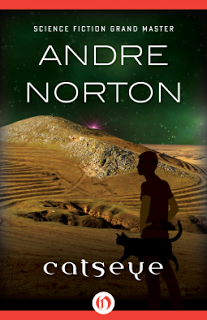 Author:  Andre Norton
First Publication:  1961
Edition being reviewed:  2015
Publisher:  Open Road Media
Andre Norton is a classic writer for my generation.  When I discovered science fiction and went exploring the library, it was easy to find many of her books.  She consistently delivered what was then considered juvenile books.  In today's movie language they would be rated "PG".  She was a safe author that parents did not have to worry about letting their kids read.  Norton was one of the authors who constantly delivered quality adventure stories, good characterization, interesting ideas, all rolled into an exciting story.
"Catseye" is one of my favorite Norton books.  She incorporated many themes that would appear in her other works.  Themes such as a young man who was a loner growing up under less than ideal conditions, animals, and mysteries that are slowly unraveled as the story progresses.  
I would recommend this to anyone looking for a good science fiction adventure book.