Unfortunately, despite the pullback, there are no re-entires on our Secret Santa's Inflation Hedges from late December as they are all in the money and well ahead of the entries.  We do have re-loads on our Breakout Defense Part Deux Trades and those can substitute for inflation fighters going forward but we are miles above the original Breakout Defense Portfolio – which we closed quite some time ago.  Once things in Japan do settle down, we'll be ready with a new, bullish portfolio but, at the moment – I'll just be thrilled to see us take back our Major Breakout levels and hold them next week.  
Now that we feel better about our Breakout 2 levels holding, it will be a lot easier for us to make long-term commitments where we were hesitant before.  Of course there is still plenty to worry about but, if DefCon 3 can't take down the markets – who are we to fret about a little inflation?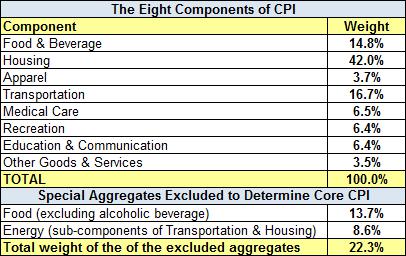 Speaking of inflation – let's consider this chart
(from Doug Short)
and what complete and utter bullshit the CPI is!  Very simply, without looking at anything else – it's housing.  Housing is 42% of the CPI and declining housing costs have masked rising inflation for 5 years now
.  
Does a lower price of a new home lower your mortgage payment?  Does it lower your monthly rent?  Of course not.  Not only that but, as many of us have noticed – property taxes are skyrocketing as local governments struggle to offset decreasing income and sales tax revenues…