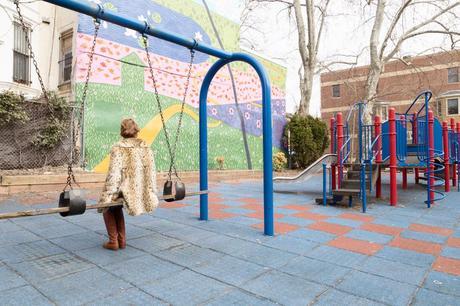 Have you ever felt divided between two versions of yourself? Over the past year, I've seen my skills in photography grow a lot. Part of it is because my day job has me using my camera all the time. Seriously, all the time. Put it this way, people ask me where my camera is if it's not around my neck, and there are some people I have an agreement with that I'll never take a photo of them (they're camera shy). Another reason my skills have become better is because I attended classes and workshops at local photo/arts colleges and centers. I've received a lot of positive feedback on my images and now, I am asked to take engagement photos, baby photos, portfolio photos, event photos, etc. Slowly, I'm becoming known as Maddie, the photographer. Funny thing is, it's not my passion.
Don't get me wrong, I love photography. Did you see the images featuring the very little black dress I made on New Year's Day? I was planning that shoot for weeks, and on Monday of last week, I was so excited for Saturday to roll around. I love creating sets, vignettes, and stories for the things I make. I live for that shit (sorry for the vulgarity). But it's not my passion, sewing is, and as much as I love snapping away, I love making a dress even more.
Maddie, the photographer, or Maddie, the seamstress? Which one I will become has been on my mind lately, and I've kept going back and forth between the two.
Then Colette launched The Wardrobe Architect, and even though the series is about building a wardrobe, it has helped mentally construct who I will be. You see, creating a personalized style involves an amalgamation of several things – location, job, history, body, etc. Well, maybe the definition of Maddie involves a combination of many things as well, photography and sewing included. Why do I have to chose between one or the other? Can't I combine the two and create a unique artisan called me. Yes, I think that's what I'm going to do…
Have you ever felt the same? Maybe you're a working girl, but also a mom and struggle between filling two roles? Or maybe you have a day job, but also a side one that is pulling you in two directions?