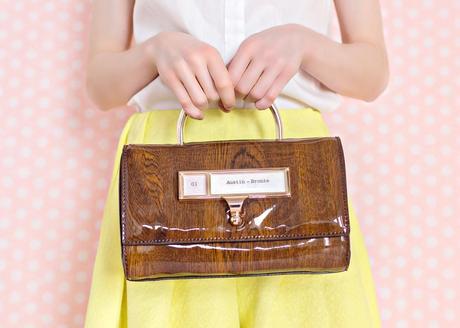 Three weeks done, finite!, and one week to go. Me Made May 2014 is almost over.
This week, more specifically, this weekend will be trying. My me-made clothing will be put to the test. I am flying home to Florida today to visit my family for Memorial Day. I don't see them often, and I'm stoked to spend a couple of days soaking Florida's strong rays and massive humidity. Sunscreen will be my most used accessory these next four days. I packed mostly handmade, Gabriola and Vera Aveline were the first pieces that went into my suitcase, and were followed by a few other unblogged garments. How will they hold up to traveling? Do they pack well? Will they work in a drastically different weather than Philadelphia? These are things I definitely don't think about when planning my me-made wardrobe, so it will be interesting to see if they raise to an unplanned occasion. I think they'll pass the test, but we'll see. Also in my suitcase is this Kate Spade handbag I have yet to wear. I got it over Christmas and it's a play off of library catalog. Remember those?
Also, I'll be visiting Mishka on Saturday, and I'm very excited to see her. A couple of weeks a go, I thought she was a goner, and the first thing that went through my mind was regret. I regretted that the last time I saw her, I didn't tell her how much I appreciated what she has done for me. I'll be sure to let her know this time. She's a trooper.
I hope everyone's doing well with Me-Made-May. I'll see you next week (not really) and without a tan.
Also, Susan Liane from Smuggler's Daughters is offering all Madalynne readers free shipping for this platinum pink fabric. It's a one time offer only, good until the end of the month.