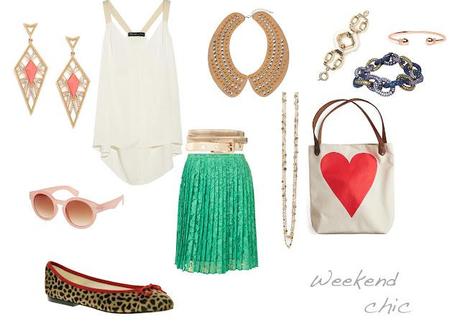 lacy green

skirt

.flowy neutral

top

. animal print

shoes

. perfect for a get-away

bag

. mixed bracelets

one

,

two

,

three

. statement

earrings

. fun necklaces:

one two

. modern

sunnies

. gold

belt
I'm got a little share of sadness this morning...
 My son on accident threw away a bag with doll-house toys for my girls that we bought in NY. It's gone and gone - we had out garbage pick up yesterday, and nobody knew that he helpfully cleaned up without realizing WHAT was in that bag ( that looked like a garbage one). He was trying to be helpful and self-motivated, but I cried when he didn't see.  Apart from the fact that it is toys that my girls loved so much ( and now I need to go and buy all again, hopefully similar enough) , it was also one of the connections and marks of our life in NYC, a life-changing time, something that I never want to let go off or forget... Sad hat on me this morning.
SO, to cheer up, I decided to make up this

WEEKEND CHIC

outfit. I think it would be a perfect Saturday attire - whether the market, the beach, city or a picnic. 
THAT DO YOU THINK? PS : any plans this weekend? we've got about 1001 , as usual, but this time more domesticated. and sleeping/napping is one of them. first one on MY list.