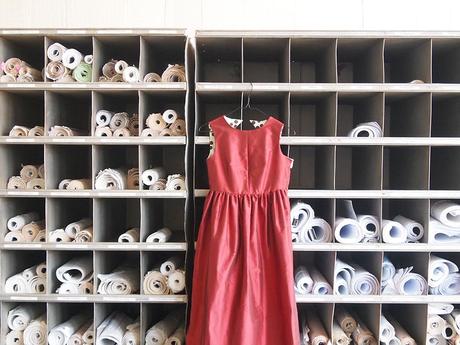 was about frosting. Not cake but frosting. One of Tasia's famous posts was about how she made too much frosting and not enough cake. Her me-made wardrobe included floral fit and flare dresses, a plaid cape, and even socks that were far from basic. Frosting is fun to make, she (Tasia) said, but there will be no where to wear it if there isn't  some cake to go with it too.
I am inches away from finishing my red dress, all that is needed is to insert the zipper. When I hung it up on Tuesday night, the night when I attached the skirt and bottom ruffle to the bodice and the dress finally looked like a completed garment, I couldn't help but laugh. Where is the world am I going to wear this? Marie Antoinette died hundreds of years ago so she there won't a tea party anytime soon. My initial plan had me wearing this dress to my friend's engagement party and thank God I didn't finish it in time because I think it would have been a little too!
So I stood in my apartment wondering where and how I could wear my newest creation. My cousin is getting married in early June. Maybe I could pair it flats? Or, I could bedazzle this baby with glitter, sequins, or pearls and put on one hell of a photo shoot with Valerie and Brandy. I'm thinking the latter.
God, I love frosting.