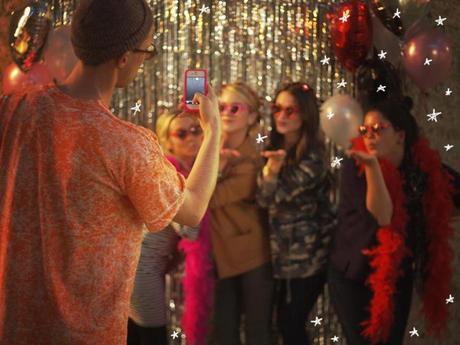 I had a lesson in technology. Maddie, puts things into perspective, that's what you need to do. Yes, let me put things into perpective… 
In some areas of my life, I'm technology savvy and in others, I'm living in the stone ages. A perfect example is when my dad handed me a television remote  when I was home for the holidays. What is this and what do I do with it? Can I eat it? Are these button actually toppings? Holding the remote out in front of me, I looked like Reese Witherspoon in the movie Four Christmas. I was confused and if I were in a cartoon, question marks would have swirled above my head. 
I've been using Google Reader since I started blogging but was recently told about Bloglovin. The heavens opened up and light shown down when I saw this site. Oh, so that's what everyone's button with the ugly black and white girl means. My discovery was just like Oona's finding of the perfect chalk , small but life-saving. It's the little things in life that matter. 
In other news, I'll be headed to NYC to attend Bri Emery's video workshop. I have lots of ideas, video ideas, tucked up my sleeve and I can't wait to start with my new skills. While in the city, I'll be hitting up all the fabric shops – Mood, Parons, Pacific Trimming, Moshulu's, and more – and all my favorite sewing ladies. Oona, Sonja, Christine, Nette, you'll be receiving emails from me. 
Lastly, I want to thank you one more time for your criticism on my first pattern, Amerson. Patterns for the home sewer is a new venture for me and reading all of your suggestions was a huge learning experience. I learned a lot! Although I made a big boo-boo with the sizing, I know that my next pattern will receive gold stars from every one of you. Save your large scraps ladies cause next up is the polka dotted romper!