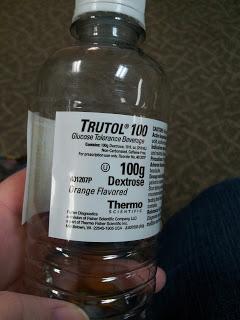 Just because it's orange flavored, doesn't make it good....
Source: MMcK
Week 25: Almost at the End of the 2nd Trimester, Plus the Gestational Diabetes Test
I'm in the dreaded cycle of the three hour blood draw wait for a second round of
gestational diabetes
testing. I have fasted for 12 hours, and man, am I starving! All because I slightly failed the first draw during the last test...
It's not a fun test. The 1-hour test that almost every pregnant woman needs to have done in the 2nd trimester isn't fun, but then fast for twelve hours and sit for four rounds of blood draws within three hours. 
It's a blast. 
I have to have this test done in all pregnancies because I have a close relative who had diabetes. I have no other risk factors (other than being slightly overweight...), and I didn't have
gestational diabetes
with my other two pregnancies, but for some reason, this kid is throwing everything off for me. 
And to boot, the kid is kicking in there, probably silently screaming
"WHERE IS BREAKFAST, MOM?!?"
Gotta be healthy, right? Some things are just unfortunately necessary. 
I'm a little grossed out already. I had to drink an orange flavored glucose drink this time. Last time it was lemon-lime, which wasn't so bad. On an empty stomach, though, orange is gross. 
Did I mention I'm hungry? 
This is the end of week 25 for me. I'm almost at the end of my 2nd trimester; the third is looming nearby. A measly three months left. How time flies! I can't believe that in three months, I'm going to be a mom of three, in the third month of 2013, right before I turn 30.
Yikes. Is that too many 3s? I know that some bad things happen in threes, but what about 'the third time is the charm'? Yeah, I'll go with that one. 
I guess we'll see. Back to concentrating on anything other than food...
~Marissa 
Marissa is a stay-at-home mom who writes pregnancy and parenting articles on HubPages, as well as shares her motherly escapades on Mommy Knows What's Best.