Little Passports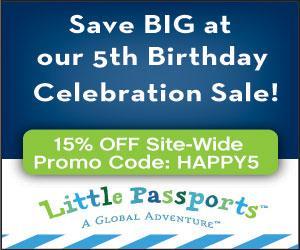 Little Passports 5th Birthday Wish is for You to get 15% Off!

That's right, Happy Birthday to Little Passports who is now 5 years old and growing fast!  
Parents and kids are raving about the Little Passports subscription package that shows up each month in the mail. (Which is the first cool part of the process for your little ones...what kid doesn't love getting mail!?) Each month, Sam and Sofia - the Little Passports guides, take your child on a journey to a different state or country around the world and teaches them about the culture, geography and history of each location. The exercises are fun and colorful, keeping your kids engaged while learning! Click on the link or banner below to sign up for your subscription today and get 15% off by using the code: HAPPY5 from today through Tuesday, 4/8.
15% Off New Subscriptions at Little Passports from 3/26-4/8 with code: HAPPY5

**The links in this post are affiliate links and I will receive a small commission if you make a purchase after clicking on my link.

Follow Me! 
Marissa is a stay-at-home mom who writes pregnancy and parenting articles on HubPages as ThePracticalMommy, as well as shares her motherly escapades on Mommy Knows What's Best.