That's a lot of money for oil.  That would put gasoline up around $5 per gallon so the easy trade here is to grab some /RB Futures contracts ($3.07) and, at $420 per penny, per contract, a single contract would pay us $81,060 if gasoline hits $5 – that's enough money to buy a Tesla, and then we never have to buy gas again!  
So, for anyone who believes the idiocy being spun by Societe Generale or their other Bankster buddies as they bang the fear drum, accompanied by their MSM puppets – just buy a single, long gasoline Futures contract and you'll find yourself rooting for death and destruction in the middle east.  
As you can see from the chart of oil Futures above – there's still plenty of money to be made on the short side as we only play the crosses BELOW the .50 lines and, even though oil went over $110 and fooled us once for a quick stop – it went all the way up to $112 without a retrace, then fell all the way to $111 for a $1,000 per contract gain and then fell through $111 to $110 for another $1,000 gain and then through $110 to $109.50, for another $500 gain.  Our job is just to stay in position, ahead of "The Big One" – like we had in the Summer of 1987: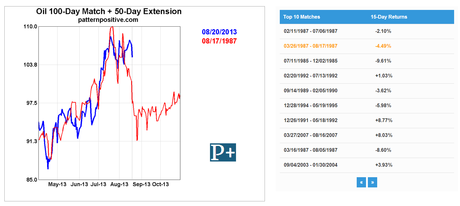 Unfortunately, we slept through the big one but we caught the $110 to $109.50 leg this morning in Member Chat and now oil (/CL) is back at $110.50 and we'll risk another dime ($100 per contract) shorting them again.  If we cover ourselves with the gasoline long, we risk $840 with a stop at $3.05 but we're very well covered for any pops in the oil Futures and (see yesterday's post) we really don't think any spike in oil will last very long.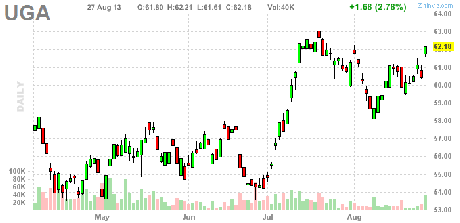 If you don't like to risk unlimited losses on oil Futures, you can short oil using /LOX3 (on Think or Swim – you can access by simply looking up /CL in the option chains) and the November $110 puts (which expire at the October NYMEX rollover on the 20th) are $4.50 and you can sell the $105 puts for $2.30 and that's net $2.20 (x 1,000!) on the $5 spread so  your upside at $105 is $2,800 (127%) per spread.  That limits your loss to $2,200 and, of course, you can stop out at $1,100 for a 50% loss to limit the risk further, which then makes a very attractive risk-reward set-up for shorting oil.  
UGA is the ETF for gasoline and, as you can see, it looks stretched but you can also say it's poised for a breakout to new highs.  That's all well and good from a TA perspective but ask yourself if you and your neighbors and your co-workers are ready to pay $4 a gallon or more for gasoline for any extended period of time?  If not – then it's not sustainable – that's Econ 101.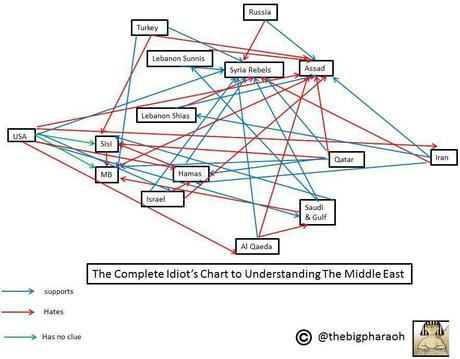 Still, gasoline is our hedge as we make our main bet oil shorts and we can pick up the Oct $66/70 bull call spread at .50 and that pays 700% if UGA goes up 15%.  15% on gasoline is "only" $3.54, so it's a lovely offset.  So, if you have on $2,200 oil short with $1,100 at risk, you can buy just $250 worth of the UGA spreads (50) and now you have a $2,000 upside if gasoline spikes.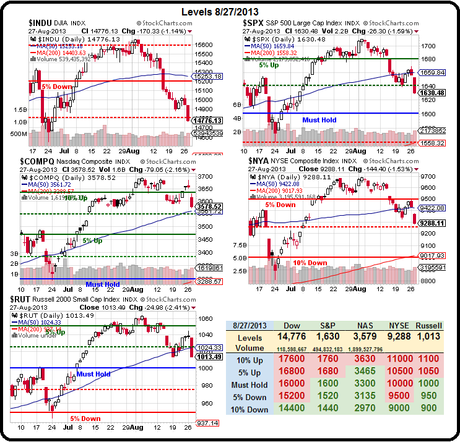 There is a middle ground where you lose both, of course but you can also take both off with a small loss long before that happens if you see oil flatlining at $110.  We are, at the moment, aggressively short on oil but it's good to know we CAN protect ourselves if this war nonsense escalates
.  
Now, on to the indexes!  The Dow has rolled over and died and now we'll see if the other indexs are going to join it or if the Nasdaq will once again administer CPR, as it did when it gapped off the bottom in June.  if not, it's a LONG way to fall for the Nas and those SQQQs are very cheap at $24.17 with the October $23/26 bull call spread at $1.10 and it's $1.17 in the money at $24.17 and you have a nice $1.90 (172%) upside on a relatively minor drop in the Nasdaq.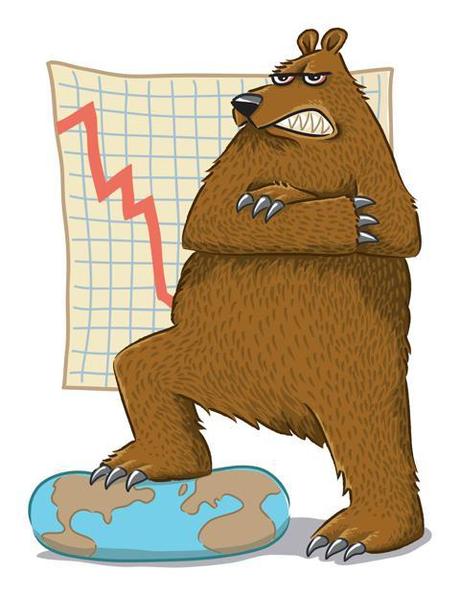 There's no alchemy here in watching the charts.  Our 5% Rule™ doesn't actually need charts but a lot of readers aren't as smart as you are and like to see pretty pictures to illustrate our targets.  Using our tops of Dow 15,650, S&P 1,710, Nasdaq 3,700, NYSE 9,700 and Russell 1,060 and 95% of those numbers is Dow 14,867, S&P 1,624, Nasdaq 3,515, NYSE 9,215 and Russell 1,007.  Those are target levels we discussed on August 3rd, when I asked if we were "
Too Bearish or Just Right?
" 
Well, here we are (more or less) so now we look for those bounce lines (20% of the drop) which is, in general, a 1% gain from where we finished yesterday.  Anything less than that is a WEAK bounce and, hopefully, you learned from my constant repetition last week – weak bounces are still bearish and we're not impressed enough to change our minds until we see strong bounces (2% up from here).  
Until then, we remain generally bearish – no matter how high oil climbs!