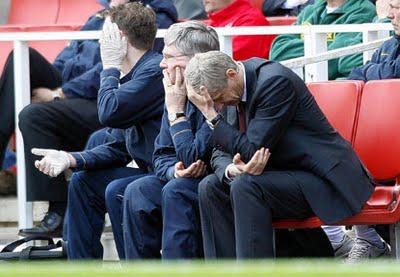 Arsenal have officially slipped out of second on the Premier League table, to be replaced by Chelsea. It wasn't long ago Chelsea was taking on Manchester City for the
third
spot on the table, but their surging form now has them in spitting distance of leaders Manchester United.
1. Manchester United, 73 pts, 4 matches remaining -
Manchester United owned the field against Everton on Saturday and were rewarded with a late, 84th minute winner from Javier Hernandez. Everton (and US Men's National first team) keeper Tim Howard did all he could to secure the draw for the Toffees, making more than a couple of saves worthy of Fox Soccer's "saves of the week" (just wanted to give a shout out to Ol' Timmy there..). United will complete a big week of football this Sunday when they travel to the Emirates to take on rivals Arsenal. Hopefully their midweek stop in Germany for the first leg of their Champion's League tie with Shalke won't have tired them out too much. Every point is crucial as Chelsea have amped up the pressure down the stretch. A loss in Sunday's matchup would set up an
EPIC
(all caps, bold,
and
italicization necessary) meeting between number one United and number two Chelsea, provided Chelsea take care of business against Spurs over the weekend.
2. Chelsea, 67 pts, 4 matches remaining -
Chelsea have come on
very
strong lately, as previously mentioned. They have earned 16 of a possible 18 points in their last six matches, most in the league. Chelsea took care of West Ham this past weekend at a rain-soaked Stamford Bridge. And even better news for Chelsea fans: Fernando Torres is finally on the score sheet for the Blues (and now costing a measly 40 million pounds per goal
on average -- what a steal!). Thanks to Manchester United, Chelsea don't have to worry about any of those pesky, mid-week Champion's League match-ups and can focus solely on this weekend's home fixture against Tottenham. Every game is a must-win for Chelsea if they have any hopes of retaining the golden patches. Like I said, however, they've been in scorching form, and even though Tottenham are fighting to earn a second consecutive spot in the Champion's League, I don't see Chelsea dropping any points this weekend (provided they don't have one eye on the following weekend's matchup against United).
3. Arsenal, 64 pts, 4 matches remaining -
Same story, different year. Arsenal give up a late winner at Bolton over the weekend to (almost) officially rule themselves out of this year's title race (and by almost I mean one more win by United or one more draw/loss by Arsenal will uber-officially/mathematically eliminate them from the competition). Arsenal cannot let up, though. They need to at least retain that third spot on the table for the benefit of next year's Champion's League campaign. Arsenal host Manchester United this coming Sunday, for little more than bragging rights. It will be interesting to see how The Gunners perform now that they've completed their annual collapse and the pressure is essentially off.
4. Manchester City, 59 pts, 5 matches remaining -
Really City are only involved in this discussion due to a technicality. At this point they're merely trying to stave off Tottenham for next season's final Champion's League slot. They have a relatively comfortable four point lead over their challengers with few tough match-ups remaining, although they will have to face off with Spurs on May 10th. In City's favor, Spurs will be traveling to Stamford Bridge this weekend with a strong possibility of dropping two or three more points before their clash. Oh yeah.. they put in an unimpressive display against Blackburn on Monday, squeaking by with a 1-0 win on Edin Dzeko's first Premier League goal. In case you were wondering (you probably weren't).