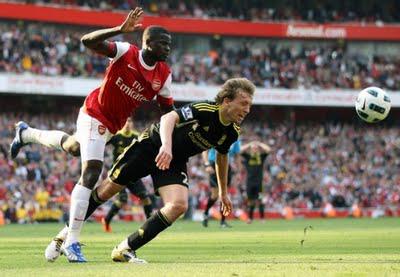 Manchester United held stagnant, Eboue blows two points for Arsenal, Chelsea gains two points on the leaders.
1. Manchester United, 70 pts -
United spar to a disappointing draw with Newcastle United Tuesday night. United dominated the match but were unable to put one in the net, and thus drop two points in the race for the title. They remain seven points up on Arsenal for the time being, with Arsenal set to play out their game-in-hand this afternoon. United next welcome an in-form Everton to Old Trafford on the 23rd. The Toffees have skyrocketed up the table in the last few weeks, earning 14 of a possible 18 points from their last six matches (second in that span only to Chelsea). United will expect to win, especially given the match will be contested at OT, but I wouldn't be surprised if they were to drop another two or three points come Saturday.
2. Arsenal, 63 pts -
Today will complete a busy week of football for the Gunners. On Sunday, after Arsenal took the lead late into stoppage time on a PK, Eboue, having decided he didn't want the full three points from this fixture, decided to take matters into his own hand. Rather than stand his ground as Lucas runs away from the net to chase down a ball headed out of danger, Eboue decides to literally shove him to the ground in the box. The referee points to the spot, Kuyt steps to the penalty, Arsenal walk away with two dropped points. Again. And to top it all off they face their bitter rival, Tottenham Hotspur, in the North London Derby this afternoon. It's unfortunate for Arsenal that they have have such a quick turnaround leading up to the Spurs match, but they'll need to rebound in a hurry as there aren't too many points Arsenal can drop and remain in the title hunt. The match will be contested at White Hart Lane and Spurs will be highly motivated to take on their rivals. I for one will be glued to my desk, eyes strained and staring into the six inch, blurry ESPN3.com telecast come 2:45.
3. Chelsea, 61 pts -
Chelsea secure a comfortable 3-1 victory over West Brom on Saturday, and for the time being move to within three points of the second spot on the table. They have earned 16 of a possible 18 points over their last six matches, the most in the EPL over that span. Chelsea welcome both Birmingham City and West Ham to Stamford Bridge this week. The Birmingham match is slated to kick off this afternoon, and Chelsea will expect to pick up another victory at home, despite the short week. West Ham have cooled off as of late, losing three consecutive matches. While they've proven they can be dangerous, it would be a stretch to predict the Hammers taking any points away from the Bridge.
4. Manchester City, 56 pts -
Manchester City were off from the League this weekend to book their spot in the FA Cup final. They play at Blackburn next Monday, and the toughest part of this match for the Blues will be that it's played away from home. That shouldn't really matter though, as City should walk away from an easy three points from this fixture.