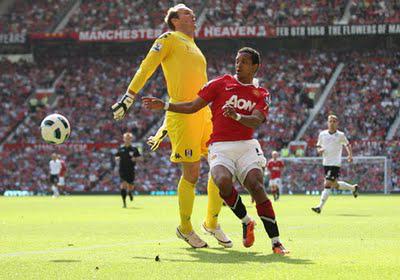 Things were pretty much as they should be in the Premier League this past weekend. Manchester United, Arsenal, and Chelsea all win while Manchester City loses. The results propelled Chelsea past City in the standings, and now the Londoners sit comfortably in the third spot. Aside from that, there wasn't much movement at the top of the table, but let's take a look at how things played out this weekend and what we can expect from the next slate of games.
1. Manchester United, 69 pts - Manchester United secured a comfortable three points this past weekend when they took on Fulham at Old Trafford. Antonio Valencia and Dimitar Berbatov were the beneficiaries of Nani's work as the Portuguese winger tallied two more assists on Saturday. United will take on Newcastle at St. James park next Tuesday. Newcastle have been in poor form since they dealt striker Andy Carroll to Liverpool in the January transfer window. United will need to keep up their current run of form and earn a full three points this weekend. Every match matters, especially this late in the season, and Arsenal are still only seven points back with a game in hand waiting for United to slip up.
2. Arsenal, 62 pts - Arsenal were finally able to produce a victory over a EPL bottom-feeder this past weekend as they were able to defeat Blackpool 3-1. Diaby and Eboue produced early, first half goals, and Arsenal settled in from there. Taylor-Fletcher made it interesting after the break as he struck for the Tangerines in the 51st minute, but van Persie finished them off with 75th minute strike of his own. Arsenal will travel to their favorite venue in a week's time as they take on beloved city-compatriots Tottenham at White Heart Lane (sarcasm). The North London Derby is one of the most heated rivalries in soccer, and it's safe to say we can expect a firecracker of a game next Wednesday. Both clubs have a lot to play for. Arsenal are trying to remain in contention for the EPL title while Tottenham are actually on the doorstep of pulling even with Manchester City and contending four the fourth and final Champion's League spot next season. Mark your calendars for this one, EPL fans. No matter who you support, this is one of those games you don't want to miss.
3. Chelsea, 58 pts - Chelsea produced a relatively lackluster 1-0 win at home against the league's last place team, Wigan. What is increasingly becoming a more and more pertinent headline, Fernando Torres failed to score for the Blues again after coming on for the last thirty minutes of Saturday's matchup. Florent Malouda was who broke through for Chelsea as he was able to slot home a shot from within the box amidst mass chaos from both squads. Despite being unimpressive, it was still a good result from Chelsea as the win moved them two points clear (with a game in hand) of Manchester City for third place. Their next match is Saturday when they travel to the Hawthorns to take on West Brom. This could prove to be a slightly trickier opponent than Wigan, and if they play as they did this past weekend I wouldn't be surprised to see West Brom steal a point or three from this matchup. That being said, I think Chelsea will rebound from yesterday's Champion's League exit and take care of West Brom comfortably. Even though they are realistically out of title contention, they still need to keep up their recent good form in order to secure their Champion's League spot for next year.
4. Manchester City, 56 pts - Don't look now, but Manchester City is now in a fight for fourth. It was a mere few weeks ago that they were at the top of the table challenging their rivals for the title, but with Monday's thrashing at the hands of Liverpool and Tottenham's win over Stoke, they now find themselves fighting for their Champion's League lives. Tottenham are now only three points back with a game in hand. City are desperate to be taken seriously in the EPL, and if they mean to do so they will need to be in the competition for European soccer's biggest prize next season. Luckily for City, they will have this next weekend off from the rigors of the EPL. Tottenham, however, will have a chance to pull even, points-wise, if they can manage a victory against Arsenal next Wednesday.