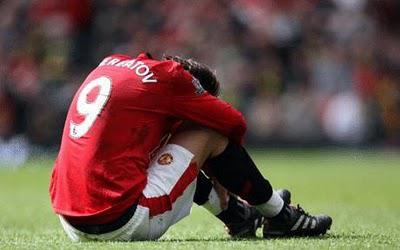 We're back with our weekly review of the title race.  It was an unimpressive weekend for the league's top four squads.  Here's how things played out and what each team has to look forward to after the FA Cup break:  
1. Manchester United, 60 pts - 
Manchester United are now in a fight for the Premiership title with their weekend loss at Anfield.  They suffered an embarrassing 3-1 defeat at the hands of arch rival Liverpool.  While they are technically still up three points on Arsenal, the Gunners have a game in hand and share the driver's seat with United.  The Premier League is taking the weekend off to allow the FA Cup battle to rage.  Ironically, United and Arsenal headline the Cup events on Saturday.  Since Saturday's match has nothing to do with the Premier League title race, however, we'll look ahead to March 19th when United welcomes Bolton Wanderers to Old Trafford.  Bolton will not be an easy victory as the Trotters currently sit seventh on the table, having earned only two points less (40) than Liverpool.  Their recent form has been slightly better than United's, having earned 10 points over their last six matches to United's nine.  United desperately need a full three points from this fixture to get back on track and gain momentum in the title race.   Anything less than victory could prove fatal for United's title chances.  
2. Arsenal, 57 pts - 
Arsenal blew a chance to move within one point of United over the weekend as they played to a scoreless draw on Saturday at the Emirates.  It wasn't for lack of effort or controversy, however.  Twice Andrei Arshavin looked to have broken through: he was not awarded a penalty after being shoved from behind on a breakaway in the box, and he had a goal disallowed after being called offside when he was clearly on.  It was just that kind of frustrating afternoon for the Gunners.  They still picked up a point on the leaders with United's loss to Liverpool, however, and now sit three points back with a pivotal game in hand.  If Arsenal were able to win out from here, they would bring home the trophy.  That being said, the same goes for United (and don't forget the two are scheduled to contest in the league on May 1st).  We'll get a preview of this matchup on Saturday as the two clash in the FA Cup.  Arsenal's next league matchup will be at West Brom, a very winnable fixture against a team still in the relegation conversation.  Health-wise, the Gunners are not quite 100% but should have enough firepower to pick up three points on the Baggies on the 19th.    
3. Manchester City, 53 pts - 
Manchester City stole three points at home from an unfortunate Wigan Athletic on Saturday.  City played very flat, their only goal coming off a Wigan keeper error after he misplayed a simple save on David Silva.  Silva's shot hit Ali Al Habsi right in the hands before meandering into the net.  City are having serious injury woes, but if they want to be taken seriously in this title competition they will need to show better in future fixtures.  They will have two weeks to prepare for Chelsea, their next Premier League matchup.  This will be especially tough for City as it will be contested at Stamford Bridge.  Realistically, City will be happy to escape with a point from this game.  They will hope their rivals also drop points in their respective matches and look to their remaining fixtures to make up the point difference on United and Arsenal.   
4. Chelsea, 51 pts - 
Chelsea's ebb and flow season is back on a flow.  They have won their last two fixtures, at Blackpool and at home against Manchester United.  They have earned 13 of 18 points in their last six matches, second only to Arsenal, and have picked up five points on the leaders over this stretch.  They still have a lot of work to do to get back into serious title contention.  Not only do they have to continue their recent form, they have to hope the top two teams falter down the stretch.  Their next match is against Manchester City at home on Sunday, March 20th.  Chelsea, who currently have a game in hand on their opponent, will be looking to win this matchup and take over third place from City.  Chelsea has some very winnable fixtures coming up after City before back to back weeks against Tottenham and United, and if they're not careful, may find themselves legitimately in the hunt come the end of the season.